Did you know that Alzheimer's patients have lost their sense of smell? Did you know that your sense of smell can affect sleeping, motivation, and empathy among other things? Did you know the brain is designed to expand and contract like your lungs? I didn't either.
Understanding Child Brain Development from The Family Hope Center begins with an introduction of Matthew and Carol Newell, their qualifications, and information about The Family Hope Center and it's team. Then Mathew goes into what he will be discussing. It's here where my "get to the point" nature rebelled. Thankfully, it was short lived, and we were soon into the heart of the DVD. Or should I say brain?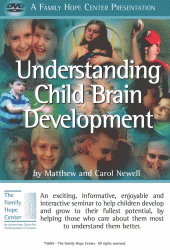 I have to say, I found the information about the different areas of the brain, and how they affect abilities, simply–fascinating. And I can now hear Spock's voice saying that. Pardon my Trekkie moment. Moving on.
I took about four pages of notes, and ended the video realizing, I'm pretty passionate about this. One of the things I appreciate is that Matthew and his team view things a little differently. They don't focus on the symptoms as much as on wellness. What abilities does the child have? What abilities seem hindered, or rather, disorganized? How can we help the brain heal?
The body has been given an amazing ability to heal itself if given the right circumstances. For example, if I cut my arm, and I keep it clean, it will heal itself just fine. However, if I were to put some contaminated mud on it, the healing process would be impaired. The brain is the same way.
The Family Hope Center deals with patients who have been diagnosed with special needs like Autism, ADHD, and Down Syndrome. Rather than seeing these children as having disabilities, they see them as neurologically disorganized, or having abilities that are hindered. This isn't just a change in phrasing, but a wholly different way of looking at what's happening in their brains. They also feel that parents, and families as a whole, are key in the healing process. Their job is to come alongside these families and help them plan a path to healing.
Sometimes we can look at our children as a list of symptoms. Or weird and negative behaviors. We might even focus on their disease. Understanding Your Child's Brain will change that. Instead, you will see how certain things could have disrupted a part of their brain, and how the brain can heal itself if given a chance.
I've experienced some of this as we've made changes that have had a positive affect on our ADHD, and the tics my son exhibits from time to time. The ideas presented in this DVD have enhanced my understanding and experience, and given me a strong desire to learn more.
Matthew and Carol seem to have a passion for their field, and their patients, which I'm quickly coming to share. No matter the degree you or your child struggles, I believe you will find this DVD not only informative, but encouraging.
Pricing:
Understanding Child Brain Development costs $19, and can be ordered by calling 610-397-1737 or visiting IEW.
You can also find them on Facebook and Twitter.

*Pricing and information is accurate to the best of my knowledge at time of posting.