UberSmart Software asked the Review Crew to review their UberSmart Math Facts program. This program is for Windows computers and is a downloaded math drills program designed for grades K-6, but I think it's perfect for all ages. The program can be used by eight or more students.
UberSmart Math Facts has your student practice Dot Cards (look like dominoes), Keyboard Number Entry (for younger students), and Flash Cards. The Dot Cards are great for younger students and cover adding and subtracting while the Flash Cards work well for older students. The Flash Cards cover addition, subtraction, multiplication, and division.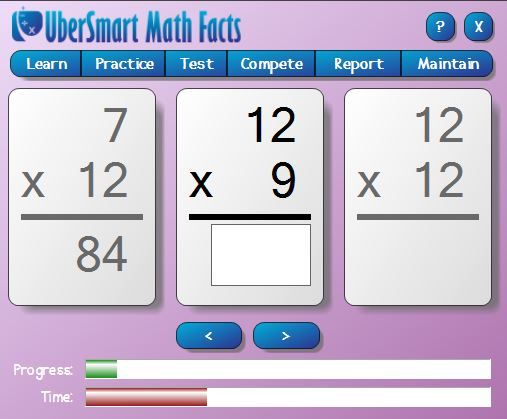 The program is like having a digital set of flashcards for all four types of math problems. Your student can work with the plus 0s, then the plus 1s and so on allowing them to quickly learn the simpler facts and building in difficulty as they go. Once they master each set, they can mix the different math facts for an even greater challenge.
There is an Assessment Test that can help determine how much your student knows before they start memorizing the math facts. It's not a timed test, and the students are encouraged to do the best they can.
Next, they can use the Dot Cards and Flash Cards to learn the math facts in the learning section. There is no typing on this part. They say the answer to themselves and then click 'show' to see if they are right.
Then they move into the practice rounds where they build speed and work towards mastery with Dot Cards, Keyboard Mastery or Flash Cards.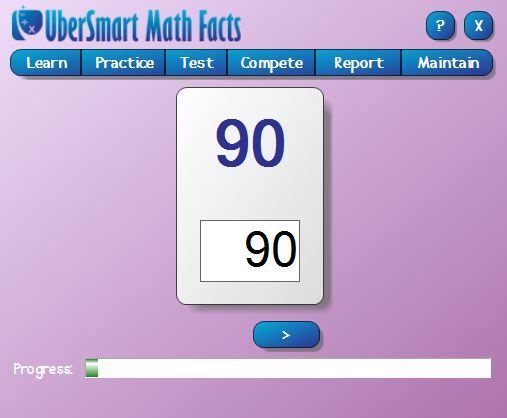 Once they feel they have learned the math facts well, they can take the Mastery Test to see how they are progressing. The tests are timed to help look for mastery versus figuring out the problem as they go. The student can choose to skip a problem, and it will move to the end of the test. However, they have to answer all the problems in order to finish the test.
There is also a section where the students can compete against other UberSmart Math Facts users to see how they rank against others kids their age in speed and accuracy.
The program also tracks their response times to determine what the student is quick or slow to remember. They can then focus more attention on those problems specifically and build their recall speed for them.
Once they master all the facts, you can print a certificate for them to display their accomplishment.
How We Use It
At first, I let the kids play around with the program and get familiar with it. Then I assigned the facts I wanted them to drill on. Since we are still on our summer schedule, the kids used the program at random times for drill practice.
Once we are back into a heavier academic load, the kids will be using this to warm up each morning before school. They can also choose to do it again later in the day for extra practice if there is time.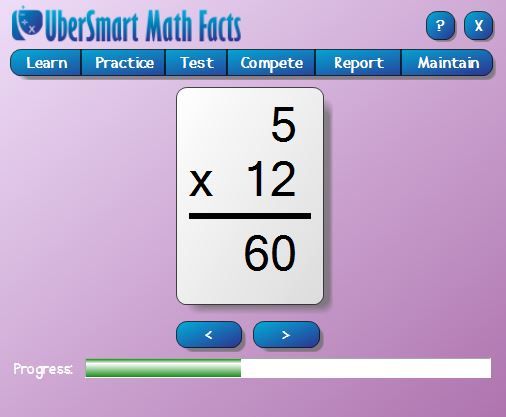 What We Think
I love the simple math facts drilling. There's no fluff. It's just like having flash cards only in a digital format. I explained to the kids ahead of time that this was a simple program designed to help them memorize their math facts and gain speed in recalling them when the problems pop up. I also said they could work on beating their own time each time they use it. I shared with them how this would come in handy in their regular math work as well as throughout their lives.
Knowing all this going in, the kids really took to the program. They love practicing and gaining proficiency in their addition, subtraction, multiplication and division. I even downloaded it to my own computer so I can work on my speed and accuracy.
I love that a homeschooling dad designed the program when his wife asked him to (after searching and not finding what they wanted). I also appreciated reading how their daughter, who has learning disabilities due to her struggle with Epilepsy, mastered her math facts after using this program. Since I have recently started having seizures, I've found that my memory is being affected by them. Their story is why I decided to use it for myself, too.
Pricing and Other Information
UberSmart Math Facts is $24.95 for a family license, and comes with free upgrades and support. The newest version is planned to release September 1st.
David Kocur has offered a discount code to our readers. Enter "v4 Early Bird" in the discount code on their purchase page for a 30% discount. Please note the discount code is only valid until September 30th.
You can read about how it all got started on their About Me page.

*Pricing and information is accurate to the best of my knowledge at time of posting.