Supercharged Science asked the Review Crew to review their e-Science Program for grades K-12. The program is set up so you can go through it by grade level, by topic, or go back and forth if you choose. There is a wonderful Getting Started Page and another very helpful section on keeping a scientific journal.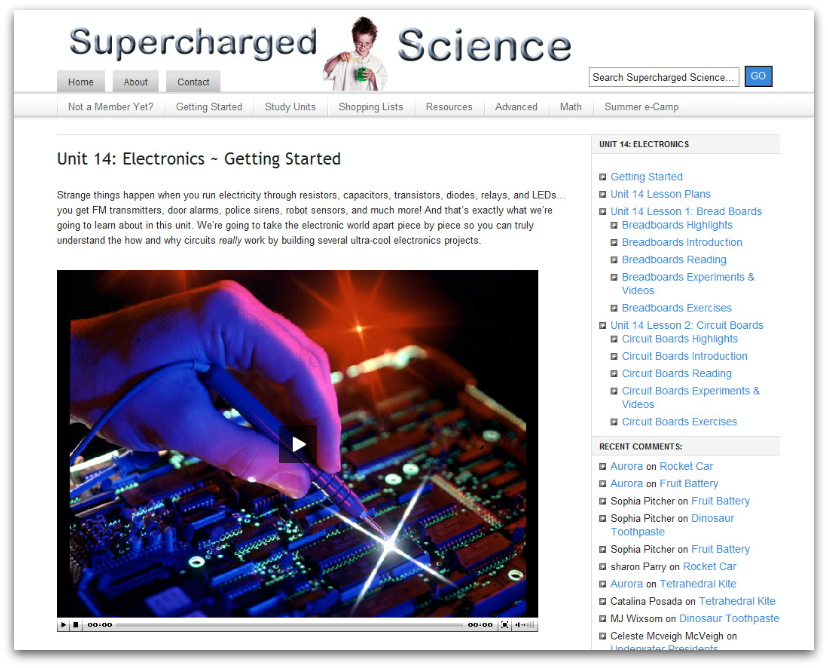 Aurora is the one who created this curriculum, and she teaches the majority of the lessons. So who is this woman? Well, she's a rocket scientist (no kidding) who has designed rockets, holds three patents for her inventions, has a graduate degree in mechanical engineering, has worked for NASA, and she's a stay at home mom to four kids. She even has a pilot's license. These are some of her accomplishments. I think it's safe to say she knows a thing or two about science.
The Supercharged Science e-Science Program is quite comprehensive. When you click on Grade Levels, there are sections for each grade level from Pre-K through Eighth grade, Advanced Topics for highschoolers, Teaching Resources, and Science Fair Topics. Under the Topics tab, there is a New To e-Science? section, Unit Zero which gives an overview, The Scientific Method which gives tips on exploring science as a scientist would, 20 Units covering a wide range of topics, information on the Science e-Camp program for summer learning, and a section called Mathemagic. Plus, you can access the Teaching Resources and Science Fair sections from here, too.
Some of the features of this e-Science Program are video instruction, step-by-step videos for the experiments, activities or projects, reading material, questions and answer keys, shopping lists, downloadable units, teacher/parent guides, and support if you or your child have questions. In fact, at the bottom of the page on each experiment, project or activity, you will find a comment system where you or your child can ask a question about that particular lesson. Aurora answers a lot of questions here.
Now for review purposes, all grade levels and topics were open to us. Let me tell you, THAT was overwhelming at first. Because there is so much contained in this program, they actually start you with limited access. Each month, they will release 1-2 more units/topics. You can read more about how they do that at the top of either the Grade Levels Page or the Topics page. This really is a smart idea because it keeps you from information overload. They will also open up the entire grade or a specific topic if you ask them to which is especially nice if you have a kid who really wants to tackle a specific topic.
How We Used This
The first thing I did, was look at the Getting Started page. This page is definitely where you want to start. Not only do you get step-by-step directions on how to get going, but she also tells you how to get the most out of the program. I especially appreciated the reminder that I didn't have to do it all. Sometimes we forget we can customize things. There is also a How Not to Teach Science and a Best Way to Learn Science commentary.
Next, we looked through the Science Journal section. This will really help your child build a solid science journal, teach your child how to write a science report, and even recommends using a video camera if your child is a reluctant writer.
After that, I wandered around the site getting familiar with it. I looked through the various grades and topics. Like I said earlier, at first, it was mind-boggling. However, a regular user will not have to deal with too much too soon. It's nice that I can tell you, Aurora has created a HUGE and what appears to be a thorough science program.
Click through to my blog to view the video.
Anywho, I decided to dive into one of the topics rather than a grade level since I had three using this, and their ages are 8, 10, and 14. I read the overview page, and we watched the video together. Then we moved into the first lesson. Again, I read the lesson, talked about the concepts we'd be learning about, and then we went through the experiments. The experiments have a little bit of commentary, a video, directions, and questions. There are even some worksheets you can download which include things like data tables to record the information from the experiments on. Some experiments we just watched and others we actually did ourselves, too. I used the laptop, and we worked through the experiment, activity or project right along with Aurora.
After we went through the experiments and activities, we went through the reading and questions. I had the kids answer these orally, and we discussed them. Then you move into the next lesson, and so on. At the end of a unit/topic, I went back through and used the concepts to quiz the kids.
We also had a blast checking out the Mathemagic portion. We all thought it was cool to figure out what day we were each born on, and have gained some new math tricks as well as math games. I think their favorite at the moment is Bagels. I think Cryptography is up next.
Even Lucky found it interesting.
What We Thought
The kids and I enjoyed the lessons we did, the experiments, and our discussion and question sessions. We all found Aurora engaging and the material interesting. I'm amazed at all that Aurora has put together, and her tips on keeping a scientific journal are easy to follow, and will lead to a really nice end product.
I think this program is perfect for families who love to do a lot of hands-on type activities, for parents who might be intimidated by teaching science or for those who are passionate about science. I found it to be straight forward science without any noticeable religious focus whether Christian or secular, so everyone should feel comfortable using it.
Pricing and Other Information
The
Supercharged Science e-Science Program:
K-8 Level Plan is $37 a month.
K-12 Level Plan is $57 a month.
Right now, Supercharged Science is giving our readers one month's worth of access to either level for $1!! This is a fantastic way to see if this course will work for your family.
Plus, you can get their Science Activity Video Series & Guidebook for free at this time! Supercharged Science has made it easy for you guys to try out their e-Science Program with these two wonderful deals.
You can also find Supercharged Science on Facebook, Twitter, YouTube, Pinterest, Google+, and their blog.

*Pricing and information is accurate to the best of my knowledge at time of posting.