PeopleKeys provides resources to help companies and organizations in their hiring and employee motivation processes. Their assessments can also be used by individuals to learn more about themselves, and how that relates to school and work. Recently, PeopleKeys sent us their StudentKeys Student Binder for review purposes.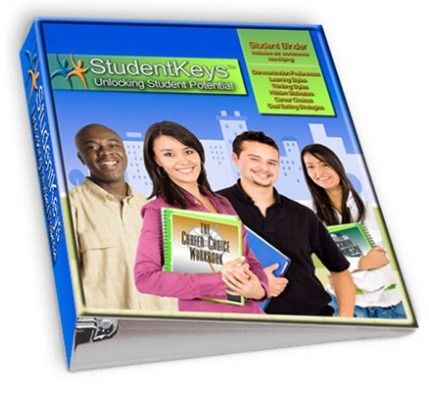 Included in the student binder are six short workbooks: The Personality Style Workbook, The Perceptual Learning Style Workbook, The Cognitive Thinking Style Workbook, The Values Style Workbook, The Career Choice Workbook, and The Goal Setting Workbook. Each of these are designed for the student to learn about their strengths and natural bents which can then be applied to their educational and career pursuits. You can use the student binder for ages 13 through adult.
Click through to blog to view the video.
How We Used It
Chrystiana (17) worked through all six of these booklets independently except for the occasional question for clarification.
We looked at the results together, and discussed her different strengths and personality traits. I also jotted my own answers beside hers on two of the booklets, so I could get a feel for it myself.
What We Thought
Overall, Chrystiana found some of the results interesting with both accurate, and inaccurate conclusions. She thought the questions were challenging, and questioned the relevance of much of the content. I have to say, she gets that from her dad. He would also question the point of it, and balk at filling them out. She did want to clarify it is a personality thing rather than a problem with the material.
I, on the other hand, think these types of things are fun, and can be educational. I agree that many questions are confusing and not necessarily applicable, but I find that on other assessments like these as well.
What I would recommend, is taking the findings, and discussing them with your student, and together coming up with ideas to capitalize on their strengths while working on and overcoming their weaknesses.
I do not think these type of tests can be fully accurate to give a finite view of a person. There are too many variables. I do, however, think these can be useful for discussion purposes which will then hone the results into something that can help gain insight. Hopefully, this distinction makes sense.
Pricing
The
StudentKeys Student Binder
is available for $49.

*Pricing and information is accurate to the best of my knowledge at time of posting.