My Student Logbook is a homeschool family owned company which came about when the mom was feeling overwhelmed with the planning side of things. They were expecting their seventh child, and she needed a simple system. Based on an idea by Ann from The Robinson Curriculum, Corina and Jim designed a modified and printed version which became My Student Logbook. After field testing with their own family, she shared the logbooks with her friends. Soon thereafter, they began to sell the student logbooks to the homeschooling community at large.
My Student Logbook comes in a variety of styles and formats. First, you can choose PDF versions with either a single use license or a family use license. All of these are dated either for the 2014-2015 school year (August 1st – July 31st) or for the 2015 calendar year (January 1st – December 31st).
Print versions come in both of these dated styles or you can order them undated. Plus, you can choose from nine different cover designs. When you have multiple kids, it's nice to let them each pick a different cover to easily distinguish theirs from their sibling's logbooks. If I were to purchase the PDF versions, I'd probably design one for each of my kids before having them printed and bound. By the way, these are great for kids who can read the checklist assignments and figure out how to mark the boxes. Corina suggests using these with students about second grade on up.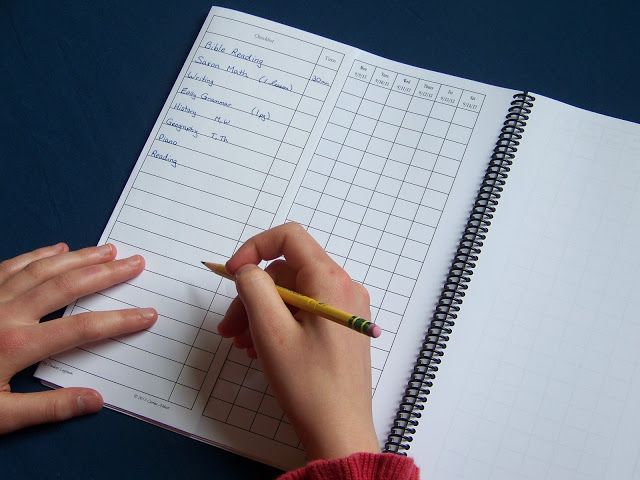 So what does the My Student Logbook look like? Well, it's an 8.5″ x 11″ spiral bound book with a sturdy plastic protective cover. Inside the first few pages, you will find instructions for setting up the logbook, ideas on how to use the logbook to create high school transcripts, and samples of weekly page set-up ideas.
Next, you get into the meat of the logbook. There are six checklist pages (you can photo copy more as needed) and 53 weekly pages. This is where your students track what they are doing each day/week, and you only need to change the checklist every so often.
Following these pages, you will find an All About Me Page where your kids can track things like their favorite color, bible verse, etc. for the current year. Then there is a Prayers and Goals page they can use at the beginning of the year. After this, there are pages to track bible verses memorized, books read, projects, field trips, etc., and test scores. Finally, at the end of the year, they can fill out the year highlights page with their favorite memories from the past year.

Product Details Video
How We Use It


Our first step, was to attach the checklist to the first weekly page and list the school subjects. I must have been a little eager to set it up because I completely forgot to trim off the torn edge. However, it's not even noticeable thankfully. Also, you can use tape to attach the checklist, but I used what every homeschool mama needs: an Elmer's Tape Runner. Seriously, you can find these gems in the scrapbooking aisle at Walmart. I keep one in my teacher's tote along with refills. If you didn't know about this before, you're welcome. 😉
We listed some subjects as specifics (CTC Math) and others as general (assigned reading since this always changes). Plus, we added extras like piano practice, art, a personal goal he wants to work towards, etc. I chose to not include chores although you could as there are 20 rows to work with.
Once set up, my son simply checks off what he's done for the day. We can see at a glance if something has been neglected a bit that week. I also took the suggestion and put a red dot by the priority assignments. This is nice on those days when our school day runs short due to a field trip or an appointment or something.

Introduction Video
What We Think


We LOVE these. They are so very simple to set up and use. I am buying one for each child (they are super excited to choose one) AND for mama. For the kids, they can see at a glance if they are done for the day or not. I don't have to remind them of what needs doing which allows for more independence on their part and less nagging on mine. Definitely a win.
It's nice for both the kids and for me to see at a glance how much we accomplished any given week. Plus, since I have/am getting the undated ones, we won't waste any pages when we take a week off for a holiday or vacation or something. Since I school by seasons, I can use a new checklist for each season plus I can use one for specific holiday related schooling as well. If you need more checklists, you can simply photocopy one of them (so leave one available for this).
As for mama, I can use it for my own studies: guitar lesson book, bible studies, goals, habits, photography learning, etc. I'm so in love with this idea, have already chosen my cover art, and can't wait to get it ordered. Alas, will payday ever arrive?
One thing to note: these are not lesson planning books, but rather a way for the student to track what they are doing each day/week. It's a daily reminder, checkoff list, and record keeper all in one. When they need specific instructions, these are printed out and put in their student binders.
Oh, I almost forgot! If you lift the checklist flap, there is a little bit of space to add a note to each row. You could use this for a specific note about the subject/assignment or you could add a fun little note of encouragement or something to add a smile to their days.
Do I recommend this product? Oh, yes, ma'am I do! It's simple, versatile and great motivation! At-a-glance accountability and record keeping made easy.

Set-Up Guide Video
Pricing and More Information


The print books, My Student Logbook 2014 – 2015 School Year, My Student Logbook 2015 Calendar Year, and My Student Logbook Undated are all available for $15 each, and come with your choice of cover art.
The PDF versions are available for $10-$20 depending on which license you purchase, and do not come with cover art at this time.
You can find out more on their website including their FAQ. You can also find them on Facebook and YouTube.

*Pricing and information is accurate to the best of my knowledge at time of posting.