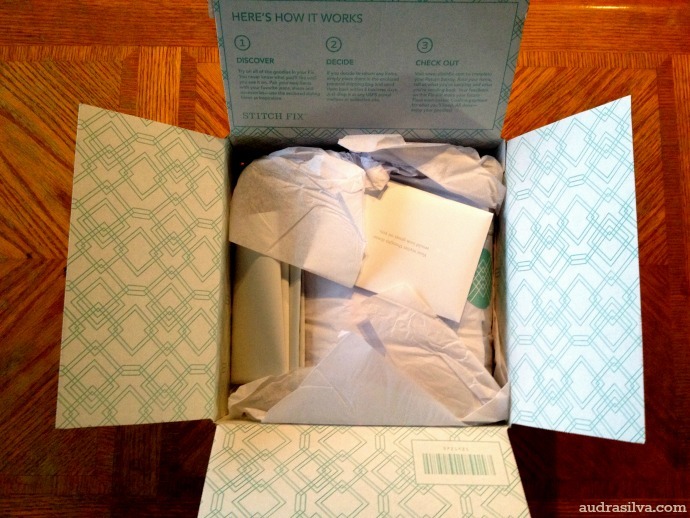 Love the inside of the box…
I first heard of Stitch Fix last year some time. I was immediately intrigued. How could I not be? Someone else goes shopping for me, sends me a box with fashion goodies nestled inside, and I get to try them on. At home. In front of MY mirror. And then I can have a goofy photo session in said outfits. But I digress.
Seriously, how can this not be appealing? Especially as a busy mama. A busy mom in a small town with limited shopping options. See, this is a brilliant business idea. I've wanted to give this a go for MONTHS. I finally scheduled my first box.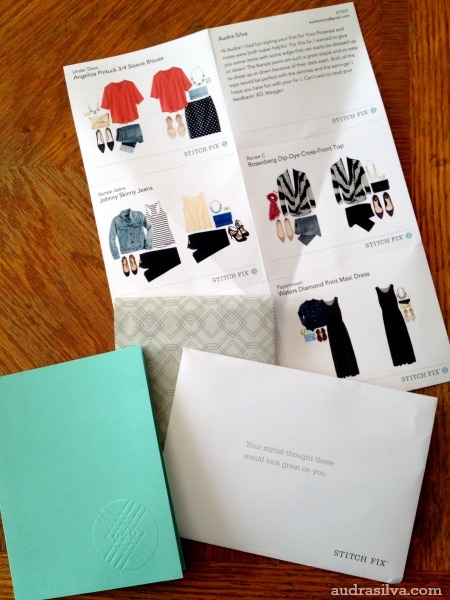 Along with the fashion pieces, you get a card detailing how this works, a price list, a note from your styler, and a style guide.
Now, a wise woman will know that most likely, the first box or two will be more miss than hit simply because your stylist needs to get to know you. I linked my Pinterest Fashion Fiesta board and filled out my Stitch Fix questionnaire as completely as I could, but there are things you just don't think about. Until they come up.
Okay, so how did my first box go? I'll let you be the judge. Let's break it down…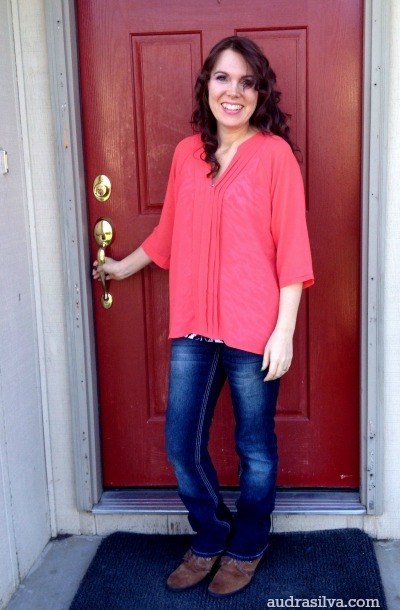 This shirt swam on me. The kids all agreed this was a "oh no, not at all my style" item. I'll keep the other comments they made to myself. Even if I am older. And almost a grandmother. I don't need to look the part yet. Right?!
I'm also one of those who wander through the store touching everything. I like soft. I like silky. I like nice things against my skin. This is NOT any of those. It's rough and scratchy. Most people would probably not think that. I'm just material picky. However, I LOVE the color.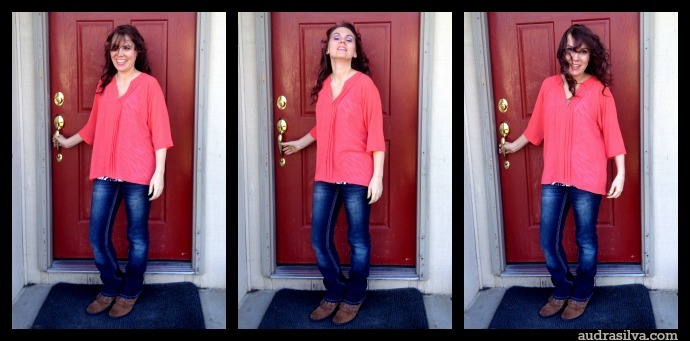 Having a mini fashion photo shoot on a day with severe winds and mega wind gusts makes for an interesting time. However, you can get a better idea how this shirt bagged out on me in these photos. I have NO idea what I was doing in the middle photo. Enjoying the wind in my hair? I include it for your amusement.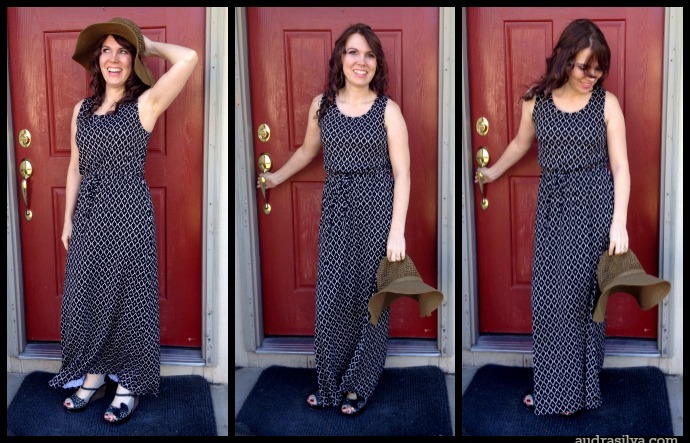 I loved the feel of the fabric on this maxi dress. Scrumptious against your skin. I couldn't wait to try it on. Sadly, the excitement died once I did. It didn't look flattering on me. Even if I had a fun sun hat to wear with it. In fact, frumpy comes to mind. Maybe it was a little big? I wanted to love it. But this one ended up being a no for me.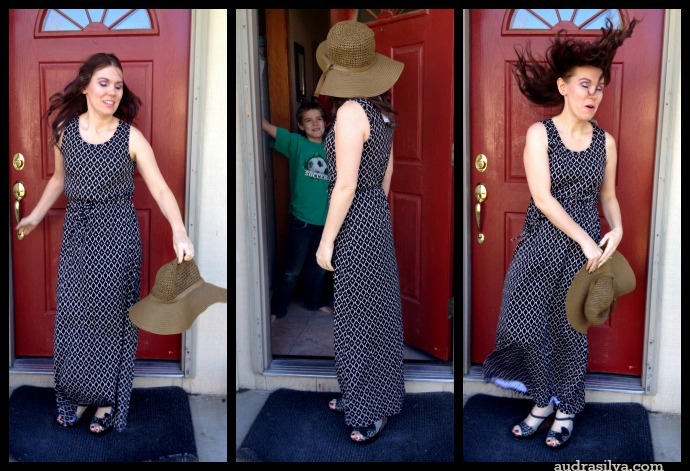 I'd like to take this moment to share some more behind the scenes. For every ONE decent photo, there are many not so good ones. Wind. Interruptions. Closed eyes. And then, THEN, there are those gems. Those photos that illicit a snort of laughter once you see them. I love the hippy look of my hair in the first photo, but I swear it looks like I'm about to do a Wonder Woman twirl. My adorable son tried to photo bomb me in the second. And the third? Marilyn Monroe I am not. Snort. Did I mention the wind gusts were crazy? Today, there is no wind. Not even a gentle breeze. Go figure.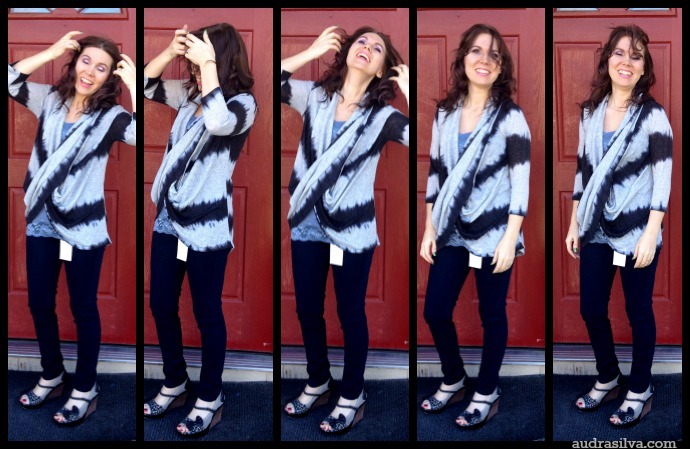 Trying to get a decent shot in the wind was near impossible for this outfit. 8} But let's get on to the description. The shirt is super soft and lightweight. Plus, I had a cute tank top that looked great underneath. The girls loved this shirt on me. They thought it was nice and classy, and loved it paired with the jeans from Stitch Fix and heels I already owned. By the way, those are adorable heels, but not comfy to wear very far. Sigh.
These jeans. I LOVE them. They fit perfectly which is not something I take lightly. It is so hard to find jeans that fit me right. These. Are. Perfect. And so incredibly soft and comfy. Did I mention I LOVE these? That said, I couldn't spend the money on them. I just couldn't. There are times I'll pay more for something, but this wasn't it. Even though it takes me FOREVER to find the perfect pair…I still couldn't spend the money on these. My hubby would have disowned me I'm sure. Maybe if I earn some money, and these come around again…I might snag them. But not today.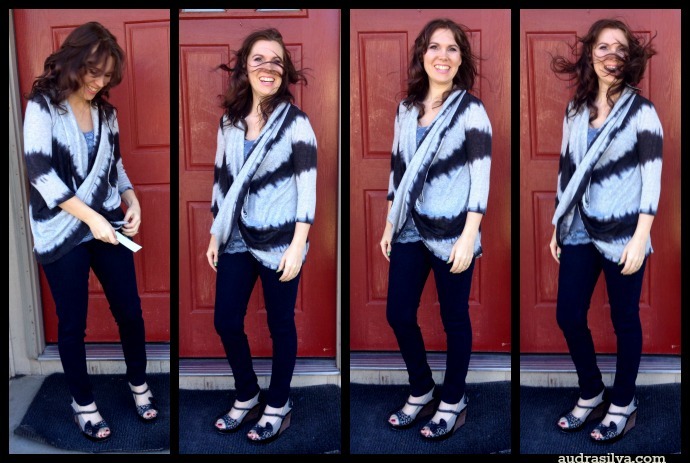 Now, here's where the catch comes in. I had paid $20 for my Stitch Fix styler to put together this box. And if I purchase something from this box, I can put said $20 toward that item. If I don't, I lose that $20. I felt compelled to buy something. It's true. The bargain hunter in me couldn't say no. By the way, you get a 25% discount if you buy all the items in the box.
I should mention I also got a pair of silver earrings in this box. You can't see them though. I totally forgot to take a photo of them. I liked them, but they were too heavy for my ears. My mom wore heavy earrings and eventually her ears split. Ouch. I'd rather learn from her, and wear lightweight earrings. Had these been lighter, I might have sprang for them because they were the cheapest item, and I love silver jewelry.

Overall thoughts:
This was super fun. I enjoyed the overall Stitch Fix experience, and was surprised how well my stylist did without really knowing me. Thank you, Meagan! I'm hoping the feedback I leave helps us build our styling relationship over time. Because I do plan on doing this again. It's a great way to play with your style a bit, and try new things. I probably wouldn't have chosen these items off the rack at a store, but since they were in my box, I gave them a shot. I'm at a place where I want to build a wardrobe I love, and get rid of the things taking space that I never wear. Maybe if I sell some things from my closet, I can afford those jeans. Sigh. Yes, I still love them.
Note: I love that I can schedule a fix when I want to or choose to have them arrive monthly. For now, I'll schedule them occasionally.
The downside for me was the cost of the items. They were too high, at least at this time in my life. I sent everything back except for the criss-cross shirt because I liked it enough. My girls really loved it on me, and there was that $20 to put toward it. I'm hoping the next fix has less expensive items in it. I'll also have to save up a little, so I can feel less guilty about getting something.
So what do you think about my first Stitch Fix box? Do you agree with my assessment? Liked something on me I didn't? Didn't like something I did? Have you tried it yet?
There are referral links in this post which would help me get a credit towards future fixes if you decide to give it a whirl by using one. I would of course jump for joy. I'd even take a photo of that if needed.