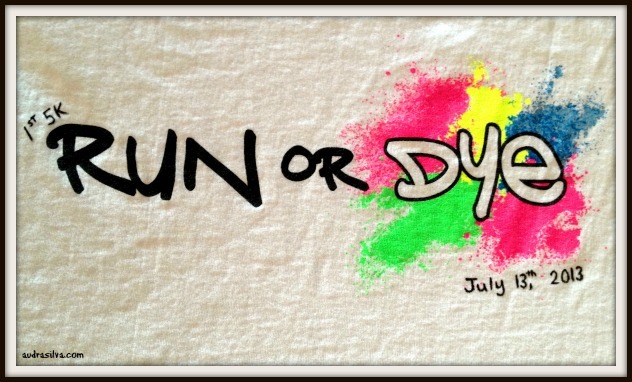 Yesterday, I told you about my crazy day before race day blonde moments. Today, I want to share about my first ever 5k. And this time, I actually have photos.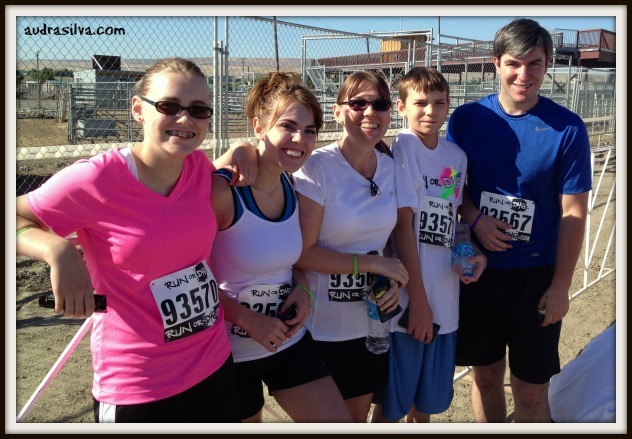 The day started shortly after 5 am. We had five racers and three cheerleaders heading up to TriCities-about an hour away. I kept praying on the way up there because I was struggling with both allergies and sinus pressure. Not how I wanted to do this thing.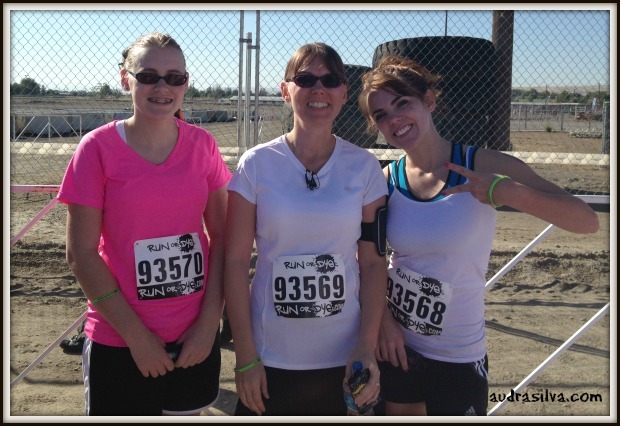 There was a ton of people which only served to amp up the excitement. After pinning our numbers on, hitting the restroom (and the incredibly long line for the women's bathroom-as always), and kissing my hubby, we racers headed to the starting area to wait. And wait. And, yes, wait some more.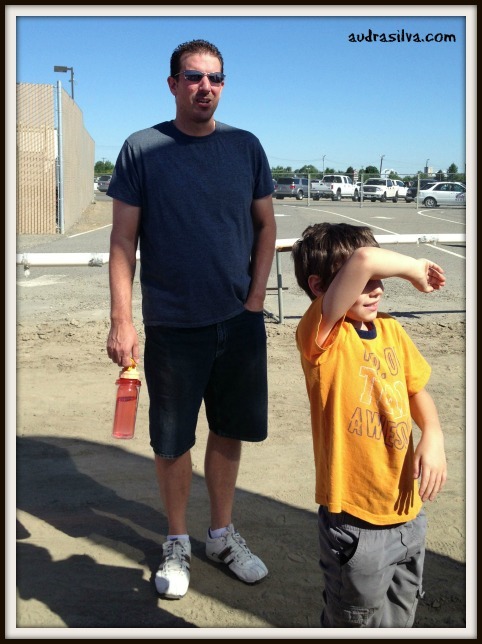 I finally called my honey, and he joined me at the fence for a bit. The kids were so cute hanging out with dad.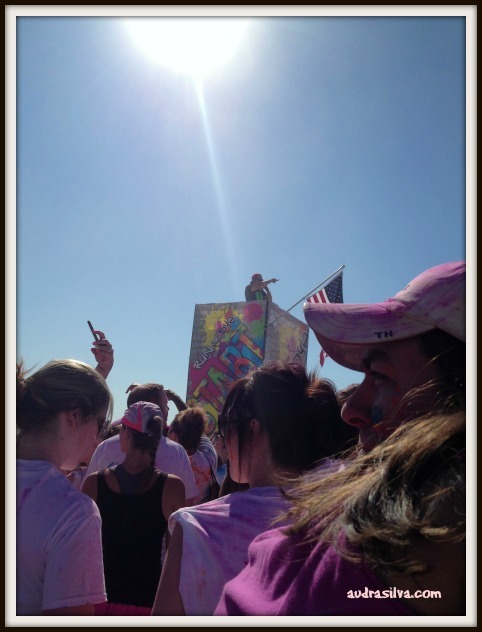 There was an emcee up on a platform keeping the excitement revved, tossing swag at the runners, and playing loud music. They sent the runners off in waves, so we had a couple of countdowns before it was our turn. I took one last glance at my honey…
And then, we were off. The course was a mix of hard packed dirt, soft sand, and rock. These presented their own challenges. In fact, right when I told everyone to watch their ankles, I turned mine. Ouch. We started out together, jogging past the walkers, and then spread out a bit. It. Was. Hot. Dusty. And awesome.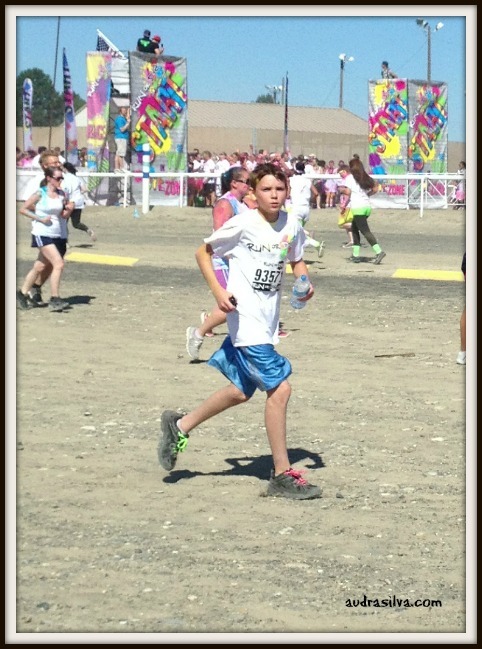 Christian took an early lead and headed off on his own. He kept up a strong pace through the whole race. I'm a proud mama! The loud music at the beginning caused his head pain to ratchet up a bit I'm sure, but he pushed through and ran his race.

Katrina and Dane headed off next wanting to catch up with Christian. They ended up somewhere between Christian and Chrystiana and me. Chrystiana and I brought up the rear of our pack. We decided to pace our way through it especially since we didn't have anything telling us how much farther. Chrystiana struggled with a little light-headedness, and I felt nauseous when I drank too much water at once, but that quickly passed for me.
We did a mix of walking and running, and my husband met us or called me to encourage me along the way. He is my knight. Truly. I love him to pieces.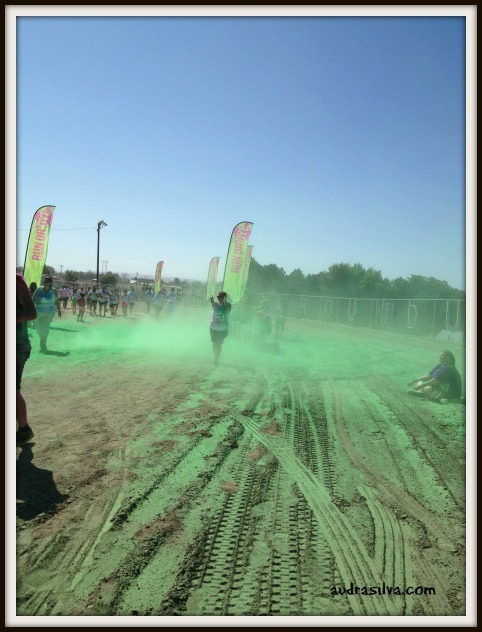 The dye stations were set up along the way, and we made sure we had each color thrown at us lol. Our strategy worked because we were covered in dye from head to toe. Literally. Every piece of clothing had dye on it.
As soon as I saw my honey at the end, a big grin lit up my face. I'd made it. And my sweetie was there to meet me.
Before we knew it, it was over. We'd made it. Looking back, had I known the distance along the way, I could have pushed harder. Next time. Next time, I want to run the entire thing. At a good pace. Goals to conquer.
Click through to blog to see video.
After that, we did the dye the sky event which was crazy difficult to see or breath in. Yikes. But still fun. And then we were done. We were messy. And we were tired.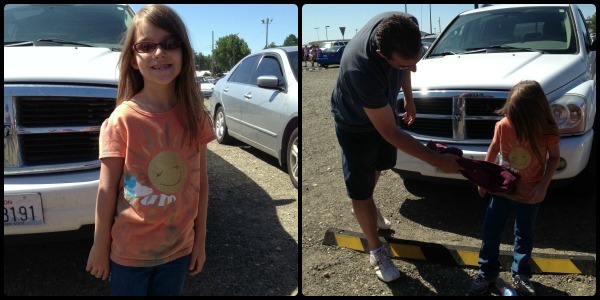 On our way back out, Amber got caught in the crossfire with some blue dye. That cracked her up. Bob dusted us off as best he could, and helped us climb onto the covered seats. We did not want to dye the suburban.
We all enjoyed some of the crazy costumes around us. All of us girls admired the creative Run or Dye t-shirt makeovers. Maybe next year…
Before we headed home, we stopped and ate at a Taco Bell. The workers loved seeing us, and offered congratulations. So fun.
And then we piled back into the Suburban, and headed back home. Dane and Katrina crashed (they had less sleep than I did). It was here that I realized I hadn't felt any sinus pressure or struggled with allergies during the actual race. God was so good to me. I spent my time on the way home thinking about how far I've come. How far I still need to go in my healing journey. And I am ready to keep fighting.

Once home, we took in how utterly grimy we were. Showers were definitely in order before anyone could sit on furniture. After my shower, I snuggled with my honey, but my sinuses got the better of me. I took some medicine and headed to bed. I felt miserable, but so thankful I had run fine.
Things I learned:
Use my GPS app to track distance, so I know how to push myself better.
Only sip water during the race. Drinking too much at once is not good.
Think about key photos I want for capturing memories. There were a couple I missed.
Goals for next time:
Run the entire 5k.
Work to heal my body more.
Build more strength.
Thank you to those who encouraged me, cheered me on, or thought I was crazy. Looking forward to the next one…