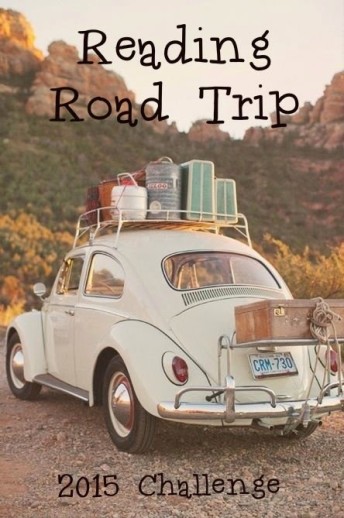 The Reading Road Trip 2015 Challenge by She's Got Books on Her Mind will take me through the United States one book at a time. Let's hope every state is represented with a good book set there. The challenge hostess will have a link up each month to track progress. I'm only getting started here in March, but hope to knock this challenge out by December…even with moving.
Reading Levels:
Hitchhiker: 10-20
Wayfarer: 21-30
Voyager: 31-40
Adventurer: 41-50
Links to Get Started (thanks to the challenge hostess):
YA Novels by State
The United States of YA
Reading Through the States
I'm aiming for Hitchhiker first, but I'll list all the states.
Alabama
Alaska: Silenced by Dani Pettrey
Arizona
Arkansas
California: Drawing Fire by Janice Cantore
Colorado
Connecticut
Delaware
Florida
Georgia
Hawaii
Idaho
Illinois: Four by Veronica Roth
Indiana
Iowa
Kansas
Kentucky
Louisiana
Maine
Maryland
Massachusetts: Wicked Appetite by Janet Evanovich
Michigan
Minnesota
Mississippi: Shadows of the Past by Patricia Bradley
Missouri
Montana
Nebraska
Nevada
New Hampshire
New Jersey
New Mexico
New York: No Place to Hide by Lynette Eason
North Carolina
North Dakota
Ohio
Oklahoma
Oregon
Pennsylvania: Twice Loved by Wanda E. Brunstetter
Rhode Island
South Carolina: Nowhere to Turn by Lynette Eason
South Dakota
Tennessee
Texas: Firewall by DiAnn Mills
Utah
Vermont
Virginia
Washington
West Virginia
Wisconsin
Wyoming
Washington, D.C.