Greene Bark Press sent our review crew the most adorable book: Look Left, Look Right, Look Left Again by Ginger Pate; illustrated by Rhett Ransom Pennell. This little board book is written for ages 3-8, and features the adorable Wally Waddlewater. Wally wants to mail his grandmother a birthday card, but when he looks left, then right, and starts to cross the street, he almost gets hit by a car. Mama Waddlewater pulls him to safety, and then teaches him to look left, look right, and then look left again. Most of the time, we tell the kids to look both ways, but I love how this little story has them look both ways, and then one more check for oncoming traffic.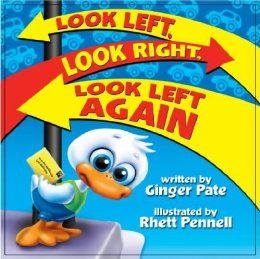 As soon as I opened the package, Amber (7) laid claim to the book. I have to admit, the sweet illustrations drew me in, too. I read the book to the kids right away, and Amber fell in love with it. In fact, she hugged me when I said the book was ours to keep, and immediately wrote her name in the front. She's asked us to read it to her several times, and she's learned to read/quote it back to us.
Since we've gotten the book, Amber practices the little saying when she crosses the road to the mailbox. She's still getting her left and rights messed up sometimes, but she's learning to take the time to look more carefully. This is such a delightful book with a good message about safety when crossing the street.
I have a feeling you, and your little ones will love this book, too. It's such a simple way to reinforce road safety, and a fun way to encourage your child to practice like Wally Waddlewater.
Click through to the blog to watch a video of Amber practicing like Wally – old movie style.
Pricing and More Information
Look Left, Look Right, Look Left Again
is available for $8.50.
The author, Ginger Pate, is passionate about safety when crossing the street because as a child she was hit by a car herself. Not only that, but she tutored a child who was hit by a bus, and didn't fair as well. She witnessed the effects on both the child and her family. It is her hope that lots of children will be helped through this story.

*Pricing and information is accurate to the best of my knowledge at time of posting.