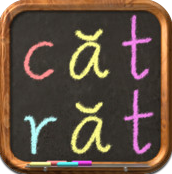 I LOVE the McGuffey readers. I've used them in our homeschool for years, so I was excited to see an app based on them. LiteracySoft offered their Phonics and Reading with McGuffey App for our review, and the kids have really enjoyed using it.
Phonics and Reading with McGuffey is available for PC, MAC, iPods, iPhones, and iPads. You can test the app with the lite version which contains the first 10 lessons. The app contains 52 lessons designed to bring the user to a first grade reading lesson. The student progresses through both reading and spelling lessons at their own pace, and can repeat the lessons as needed. I feel the app appeals to auditory, visual, and kinesthetic learners of all ages.
What I love is the heart behind the development of the app. You can find out how the app came to be on their about me page. The app is designed to be self-led which is great for kids, but especially nice for adults. They can learn in private avoiding the embarrassment or stigma of learning to read as an adult.
App features (from the website):
• All 52 McGuffey Primer lessons
• All 44 letter sounds of English and their graphemes
• 60+ letter sound animations
• 400+ practice word vocabulary
• 9000+ nonsense word audio dictionary
I own a copy of both the revised McGuffey readers, and the originals. This app is based on McGuffey's Eclectic Primer Revised Edition, and if you don't have a copy, you can download it for free from LiteracySoft, and use it along with the app if you'd like.
How We Use It
I am using this with both my seven year old, and my ten year old on my iPad mini. They both ask to "play" it, and I'm more than happy to say yes. Sometimes I have them sit near my husband or me to watch how they are doing, and other times, they find a quiet spot alone. They both seem to be learning and benefiting from it, but it's more noticeable with my younger one as she is still very much a beginning reader. They play it often through the week, and I let them go as long as they desire. This allows them to go at their own pace without overwhelming them.
Now that they are both well into the lessons, I'm having them also read the McGuffey's Eclectic Primer Revised Edition. When they finish, I'll probably start them on the original series, and have them use the rest of the revised series as extra reading practice.
I think her smile says it all.
What We Think
I asked my seven year old what she thought, and received two thumbs up and a big grin. My ten year old is equally enthusiastic. As for me? I already mentioned how much I love the McGuffey books, so this app is a wonderful addition. It's effortless. The kids ask for it. They are learning from it.
I like that the app allows for up to ten individual users which makes it nice for large families, too. I also love that adults can learn to read with this in private. Sometimes embarrassment can keep an illiterate or struggling adult or older teen from seeking help. This app would help solve that dilemma.
Pricing
The
Phonics and Reading with McGuffey app
is available on iTunes for $19.99. The lite version is free, and allows you to test the first 10 lessons. You can also download a free trial for your PC.

*Pricing and information is accurate to the best of my knowledge at time of posting.