As ya'll know, I have an IT hubby, and I like to dabble with code/web design a little myself. So anything that comes up in this area for review, I can't help, but check it out. This time the kids and I reviewed Let's Make a Web Page from Motherboard Books.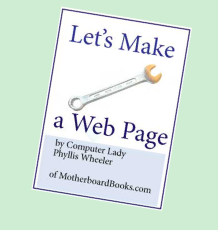 Let's Make a Web Page is a 60 page e-book geared towards ages 8-12. The book directs you to download the free trial for CoffeeCup Visual Site Designer. After the 30 day trial expires, the software costs $50 to continue using it. Three of my kids made a web page each with plenty of time to spare on the trial.
The e-book leads your child through adding text, images, backgrounds, animations, sounds, and links all using this particular software. It also shows them how to preview their page, and how to save the page files and upload them to the internet.
Christian, age 13
Click to enlarge.
How We Used It:
First step, download a trial of the software. Easy enough. I have two monitors for my computer, so we popped the e-book on one, and the software on the other. The basic idea is to interview someone, and make a page based on that.
My oldest son tackled it first, and found it fairly easy. Occasionally, we had to figure out something because the directions were a little different than in practice. Computer software is always changing, so this is bound to happen, and it didn't cause any problems for us. It's nice to share some things that I know with him along with the book. Some things looked familiar to him from watching me work. He chose to interview his dad, and picked a photo of him testing a keyboard.
I love how different each page turned out even though they followed the same process.
Next up, my younger son had a go. He's not a strong reader yet, so I skimmed and paraphrased as we went through the e-book. I gave him some basic design advice, and he had a blast choosing his elements. We both shared typing duty, but he was able to learn how to use the software–at least the parts we needed. He chose to interview me, and we found a photo of me for his page.
I thought I would just use this with my boys, but their younger sister was not going to miss out on this. I did all the typing for her, and did most of the hands on work. She was able to do some of it, and chose all her elements. I'm so glad I took the time to do this with her because she was beyond excited to show her daddy. She is very proud of her page. She also chose to interview me, and we used a photo of the two of us for her page.
Jake, age 10
Click to enlarge.
What We Think:
This was a simple and quick project for the kids, and each page took only a couple of hours to do. They all enjoyed the project, and had the satisfaction of seeing the results of their hard work come alive–literally. It's animated, remember? Okay, bad joke. Moving on…
I think Let's Make a Web Page is great for a young beginner especially if they have non-techy parents. Phyllis Wheeler keeps her directions simple, and uses lots of screenshots to help you find your way through the software program and resources used. I love that she has a segment on internet safety which is presented in a simple, non-threatening way.
The best part? The random questions the kids thought up for their interviews.
Will you child learn how to program a web page? No. That's not what this e-book covers. This e-book helps your child use a web builder software to create a simple web page. They stay on the front end of web design rather than delving into the back end (code). She does mention html, and shares a little about it which is a nice way to get their feet wet for further html exploration later.
Personally, I'm using this as a springboard into deeper learning. I actually have a family domain which we haven't done much with up to this point. I think it's time to dust it off, and give each child a "home" on the web. I know they will enjoy it since they love what they accomplished with this project. I won't be using the CoffeeCup software after it expires, so I'll be looking for something else to use.
Overall, I think this e-book is a great introduction to web pages for young kids.
Amber, age 7
Click to enlarge.
Pricing and Other Information:
Let's Make a Webpage
is available for $19.95.
You can find out more about Phyllis on her About Me page. Check out her other products, resource page, blog, and get The Internet Scavenger Hunt for free when you sign up for her newsletter.
You'll also find Motherboard Books on Facebook and Twitter.

*Pricing and information is accurate to the best of my knowledge at time of posting.