I think it's important for my children to learn leadership skills as I'd much rather they were leaders than followers. Plus, I have no idea what God has in store for them, and leadership skills just might come in handy for His purposes. With this mindset, I thought the leadership materials from Leadership Garden Legacy might be a good fit.
Leadership Garden Legacy sent me:
U.N.I.Q.U.E. Kids Growing My Leadership Garden paperback – $18.95
U.N.I.Q.U.E. Kids Activity Guide & Journal PDFs – $8.95
U.N.I.Q.U.E. Kids Audio Book MP3 – $8.95
U.N.I.Q.U.E.: Growing the Leader Within paperback – $18.95
U.N.I.Q.U.E.: Growing the Leader Within Audio Book MP3 – $24.95
The Leadership Garden guidebook paperback – $18.95

Click on the product links to read descriptions, reviews, details & features and excerpts.
Look for a special offer from Leadership Garden Legacy at the end of this review.
I have to first off say that I think Leadership Garden Legacy was generous in their review offer. I have children who fit both courses, so I'll discuss the details of both sets, and then give an overall how we used them and what we thought as they are both so similar. By the way, U.N.I.Q.U.E. stands for Understanding, Nurturing, Inventive, Quality, Unstoppable, and Expression.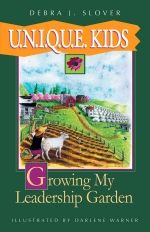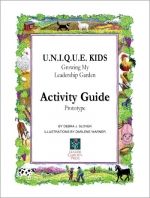 The U.N.I.Q.U.E. Kids Growing My Leadership Garden book is geared towards ages 5-12, but I feel the activity guide and journal works best for the upper age range. The MP3 has a nice feature where it chimes when your child needs to turn the page. The story is written as a fable, and is filled with charming illustrations. My children enjoyed these.
At the end of each chapter, they have a section called Hugh Wants to Know which are discussion questions. Hugh is the adorable main character of the fable. He's a young sheep learning about leadership while touring Leadership Garden where he meets a variety of animals, and the two farm owners-Leda and Aristotle.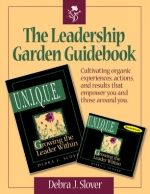 U.N.I.Q.U.E.: Growing the Leader Within is geared towards teens and adults. It is also in fable format broken up by lessons from the author's life and 33 B&W illustrations & charts. Reader exercises round out each chapter. The MP3 format would make this easy to listen to on the go, and the guidebook is designed to lead you through the exercises.
How We Used Them
I'm a firm believer in read alouds and lots of discussions. So I started out reading the younger book to my younger two, and the older book to my teens. And then, I got a wonderful sore throat. So we switched to the MP3s – such a blessing as I would get too hoarse to carry on. Thankfully, we still managed to have some good discussions.
For the young ones, I used the discussion questions at the end of the book as a guide, rephrasing or omitting what didn't work for us. We also worked through the activity guide/journal pages picking and choosing what fit my kids. Their brother had planted a seed the day before, so we used that for a sketch. When the weather warms, we're going to plan our own "leadership gardens" which will be a great time to reiterate some basic leadership concepts. This is just one of the activities.
For the teens and myself, we got a little deeper with our discussions. Some of the exercises were done on paper while others we did orally. Again, picking and choosing what worked for us.
Our Thoughts
Let me start by saying, this leadership program was not what I expected. In fact, I really had my doubts about it-at first. However, I try to give things a fair shake, and I found my thoughts shifted some as we went along. Now, the program is a secular one which I didn't realize when I signed up. If you are looking for that, this should work as is for you.
As a believer, I view everything through the lens of Christ. There were things I didn't agree with. Other things needed to be presented with biblical applications alongside. If you find you want to use these, I recommend you read the books ahead of time so you know how to handle things that might not line up with your beliefs.
I feel the author is coming from a power of positive thinking, personal empowerment, and psychology/self-help background. These are not things I subscribe to, but there are biblical truths in there. I think there is value in discussing not only what we believe in, but also what we don't and why. This cements truth deeper in one's life. We will always come against things that don't align with our beliefs, and it's important for children and teens to recognize this and know what to do when they encounter it.
That being said, there were a lot of concepts we found could be applied to our lives as believers. These made for great discussions about pulling the weeds from our garden, not judging others, avoiding gossip, facing fears, and other things. There were words or phrases she wrote that made us pause, but then we discussed what we felt she was trying to get across. Again, some things we disagreed with, and others we could apply biblical truths to.
To be a good leader, we need to weed out the sin, and fill up with the fruit of the spirit. We need Godly wisdom, Holy Spirit guidance, and Jesus' unconditional and sacrificial love in our lives. So this comes from a what to work on in our lives to be good leaders point of view.
Overall, I'm glad we ended up on this review regardless of my initial reservations. I plan to continue this with my kids as I appreciate our discussions. We will also dive deeper into leadership qualities using the bible as our main source.
Special Offer:
Leadership Garden Legacy is offering the TOS Community a "Spring Special Discount" of 20% on all our Empowerment Tools. This is in addition to our already discounted Tool Kit bundles.

To receive your discount, enter the discount code: TOS-SS20D upon checkout. This is a limited time offer and the code will expire on May 31, 2013.

Preview the bundled Tool Kit Discount options at: http://www.leadershipgardenlegacy.com/catalog/tool-bundle

Preview all product tools at: http://www.leadershipgardenlegacy.com/store

Visit the Leadership Garden Legacy to learn more at: http://www.leadershipgardenlegacy.com

With the bundle price of the Family Empowerment Tool Kit and the TOS extra 20% discount this is a $28.70 TOS savings off the retail price of the products.

*Pricing and information is accurate to the best of my knowledge at time of posting.