IXL.com gave our family an Online Math Membership and an Online Language Arts Membership for three kids. IXL.com's Math covers grades Pre-K through 12, while their Language Arts is only set up for grades 2-4 at this time. They are in the process of expanding Language Arts, and have a spot for you to sign up to be notified when new grades are available.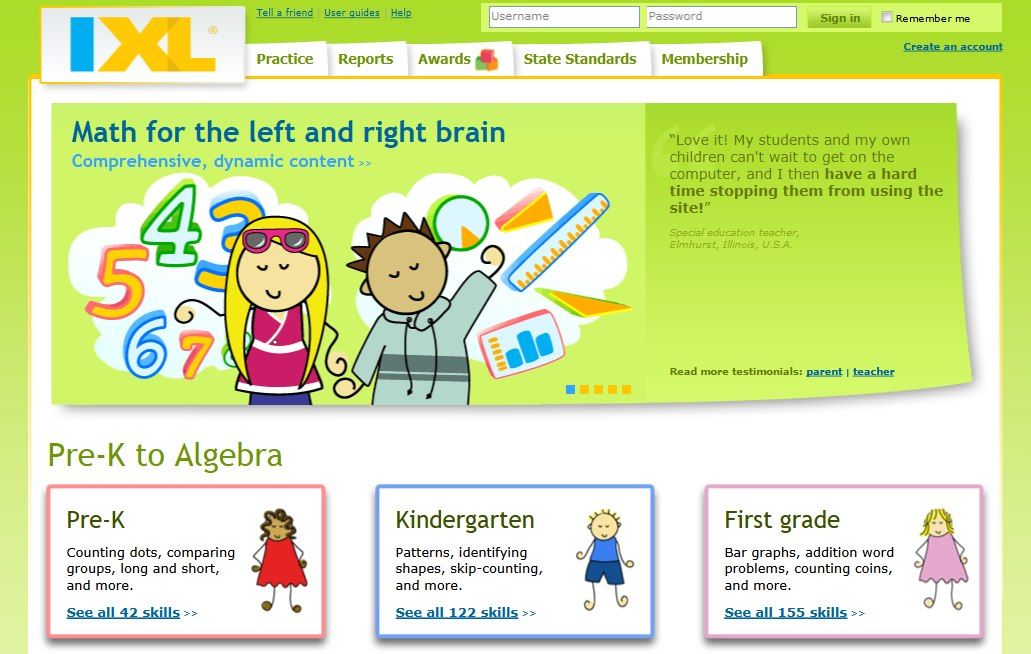 IXL.com is a giant practice, review and drill site covering over 2,500 skills spread out through all of the grade levels. The kids interact with the material through games and exercises, and parents can see how their child is doing thanks to the detailed reports available on the site. You can also elect to have reports sent to your email. Some of the things the reports show are the number of problems completed, how long your child has worked on an area, their proficiency, areas of weakness, etc.

The children work toward mastery for each skill, and the material is presented systematically building on previous material as it goes. I'd say it's pretty comprehensive as there is a lot of material covered here. If your child misses a problem, it gives a detailed explanation teaching your child what they did wrong, and how to do the problem correctly.
How We Use It
I set up the accounts for all three kids letting them choose their icons. The log in is the same for everyone, and then the kids and I each log into our own sections. Once logged in, I let the kids choose what they want to work on that day. For the most part, they can work independently. Occasionally, something is presented differently than they've learned, and I help them figure out what it's asking.
If it's a new concept, I do a quick impromptu lesson with them, and then they can work alone again. I've also encouraged them to read through the explanation if they miss something. My daughter also helps them when I'm not available. Sometimes my older son helps his younger siblings. I think allowing the two teens to help the younger ones reinforces things for them, too.
One note: I told my kids to choose whatever section they want to work on, but to then work through that section in order. They can leave the section, however, and work on a different one, then come back. The software keeps their scores, so they don't lose their progress when switching between grades or sections which is really nice.
Amber (7): "My favorite part of IXL are the awards."
Jake (10): "What I like about IXL is pretty much everything. It's easier to do the work on IXL instead of in my workbook. It's faster."
Christian (14): "I think IXL is put together nicely, but the point system drives me nuts."
What We Think
My kids balked at first. But this was a good thing. It gave us the opportunity to discuss how important it is to face a new challenge with a positive attitude. How hard work and perseverance make the rewards that much sweeter. Plus, it has shown mama some character flaws that need attention (such as laziness). I'm sure IXL.com didn't intend this sort of teaching to happen, but it's been a great tool to work through these issues.
That aside, the kids love the rewards and congratulations they receive. They also like that they can leave a section and come back to it another time. Sometimes a new concept frustrates them, but other times, they think it's cool to tackle something they thought was hard.
I really like this site. I think it has a wealth of skill practice for kids, and delivers it in a non-threatening, fun environment. It also helps me see what they are weak on, and gives plenty of opportunity for quick lessons with immediate practice. I think the reports are wonderful, and the feedback the kids get is encouraging for them.
Pricing and Information
Family memberships start at $9.95/month or $79/year per subject. Each additional child costs $2/month or $20/year.
Check out their FAQ for more information, and The IXL Blog for interesting articles.

*Pricing and information is accurate to the best of my knowledge at time of posting.