I love music! Seriously. Love. It. And I've passed that love on to my children as has my husband. One thing I wanted my kids to take were piano lessons, but with several kids, I could never justify the cost really. Something always seemed more important at the time. So once again, I'm reminded of how blessed I am to be a part of the TOS Review Crew! This time, my family was given the chance to review for HomeSchoolPiano. HomeSchoolPiano hooked our family up with lifetime access for up to five of us. Five. I have four kids currently at home. And me! So I signed all five of us up for our own accounts. Let the piano lessons begin…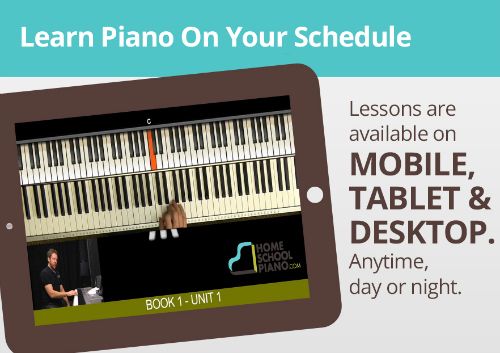 First, I should back up and give you the nitty gritty. Like I said, we received lifetime access to HomeSchoolPiano's Complete Set of Books online: Core Piano and Books 1-3. HomeSchoolPiano is perfect for all ages, follows the student's own pace, and can be watched on a computer, laptop, tablet or phone. Each book has a PDF file and a Jam Tracks zip file you can download to go with the online video lessons. I printed the PDFs for Core Piano and Books 1-3 up front, and put them all in a notebook separated by card stock dividers I printed out.
Core Piano is great for the absolute beginner and goes over topics that lay the foundation for piano playing. There are 33 lessons covering things like notes, how to sit at the piano properly, time signatures, sharps and flats, chords, and lots more. This is a great place for beginners to start or for those with some experience to brush up a bit on the basics.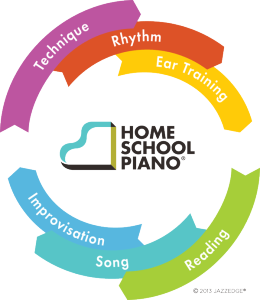 Book 1 is for the beginning piano player, Book 2 is for the beginning to intermediate player, and Book 3 is for the intermediate player. Each book is divided into six units, and each unit delves into technique, rhythm, ear training, reading music, song, improvisation and a bonus section for students to learn advanced techniques.
The videos themselves are wonderful. You can watch and re-watch lessons as many times as you need to, slow down lessons if needed, and the videos show a virtual keyboard to help students see exactly what's going on. As the notes are played, they light up along with the note name. This helps students gain confidence by showing them how to do things right as they go. If your student works on his lessons 3-5 times a week for at least 30 minutes, they will see themselves growing as a piano player.
As for mom, we can track our kids progress and how they do on their quizzes with HomeSchoolPiano's simple interface.
A quick note, this can be used with a piano or a keyboard. However, it is recommended that your keyboard has at least 49 full-sized keys. It's also best to have a stand and bench (we currently have a chair).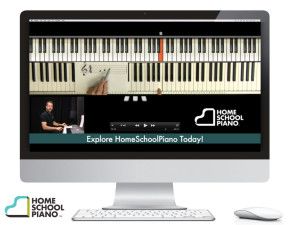 How We Used It
Setting up your students' accounts is easy, and then each one can log in individually. From my account, I can look over records for each student as well as take my own lessons. The only other set up I did was to print each of the books out and put them in a notebook which we keep sitting on our keyboard. Other than that, I gave the kids an overview of how it all works, and let them loose. Basically, the kids each watch their lesson, and then spend some time practicing what they learn both immediately after the lesson as well as other times throughout the week. We aim for a couple of lessons a week with practice sprinkled throughout.
We found it easy to watch the lessons on an iPad (we have the Mini) set on a music stand behind the keyboard. Every so often, I look over the records and see how they are doing. I find they naturally want to share with me something they've learned or discovered. I love hanging out on the couch watching and listening to them as they do their lessons.
What We Think
Amber (age 8): "I love it. The controls are funny (slowing and speeding it up), the teacher's very nice, and you learn how to play the piano."
Jake (age 11): "It's really neat, and I like it. It's fun to watch and learn about piano. It's just fun. I love it."
Christian (age 15): "It's fine." – A man of few words.
Chrystiana (age 18): "This is my favorite review product so far. I find the videos easy to understand, well laid out, and build upon each other. The things you learn in the Core Piano are used in the actual lessons. The teacher is interesting and seems enthusiastic about teaching."
Mama (age I don't think so, okay, I'm 43): "I love listening to the videos. I haven't had a chance to start the lessons myself (five people and one keyboard), but I've listened to it while the kids watch. Willie seems to love teaching piano, and keeps the videos entertaining as well as informative. I love how he keeps the kids engaged, and builds their confidence as they easily learn each lesson."
Seriously, this is a keeper. When you compare the price of this to individual lessons, the price can't be beat. I know private lessons include a teacher right there watching your student, but this is a wonderful option, too. The teacher is still right there, and the videos make it easy to see how to do what he's teaching yourself. The kids seem to be picking up the lessons easily and applying them without a problem. Plus, I love all the elements he includes from technique to improve. And it's lifetime access! They really can learn at their own pace.

You might have to click through to the blog if you can't see the video.
Pricing and Other Information
HomeSchoolPiano
has two payment package options:
1. Success Package (One payment of $299)
Unlimited life-time access to HomeSchoolPiano along with all bonuses (downloads, jam tracks, sheet music) for up to 5 students.
2. Payment Plan (Payments of $99.97 per month for three months):
Unlimited life-time access to HomeSchoolPiano along with all bonuses (downloads, jam tracks, sheet music) for up to 5 students.
I love that you can save up and pay all at once, or make three smaller payments to spread out the cost a bit.
HomeSchoolPiano can also be found on Facebook, Twitter, and Pinterest. Plus, they have a blog where they post mostly updates.

*Pricing and information is accurate to the best of my knowledge at time of posting.