Preparing my kids for college and for their future is something I find intimidating. But lately, it's a subject that's been on my mind a lot. So I decided to go ahead and review High School Prep Genius put out by College Prep Genius.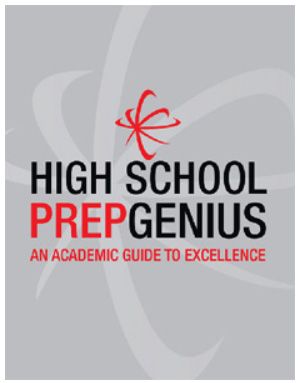 High School Prep Genius is 437 pages full of answers to questions parents might or should have about preparing their kids for college while still in high school.
Part I is a 77 page introduction covering how to use the book, starting and using a college and career notebook, mapping out a high school plan (including credits needed, summer plans, skills needed, etc.), college planning, volunteering and extracurricular activities, and awards or honors received. It also breaks down preparation tips and timelines for grades 7-8. 9, 10, 11, and 12.
The timeline for grades 7-8 discusses things a student might wonder about or face as they head to high school. It also has a section for parents to read and homework for the parent such as "have your child read many classic books". The timelines for grades 9-12 follow a similar pattern with an overview of each grade level, a month to month timeline of things for your student to do each year, and a guide for parents for each grade that includes tips and a checklist.
Click image to enlarge.
Parts II – IV each follow a similar pattern featuring a section for the students to read, a Think About It section which helps them personalize the material, a section for parents to read, and a homework section for parents which helps them work with their kids in preparing for college.
In the back of the book, there are five Appendixes with further helps and resources. My favorite would be the book list of course.
How We Use It
First, we spent some time going through the wealth of information in Part I: Introduction. Since we are a little late to the game, we plan to use the summer to catch up on some of the previous grades' timelines, and implement the timeline for her current grade this fall. Chrystiana reads the student section, and works through the Think About It section. We discuss various things from what she's read or in the case of questions, what she's answered.
Click image to enlarge.
When we first started this book, we started a traditional notebook as described. However, another review I'm working on introduced me to the wonders of Evernote. So we're in the process of setting up a digital College and Career Notebook. Chrystiana is adding her previous paper entries, and she'll be able to add photos (picture of a college she's interested in perhaps) and other media as she desires. The plan is for this to be a long term resource for her.
What We Think
We both think this is a valuable resource for the college bound high schooler. It's wonderful for helping both the student and the parents figure out what steps to take to get there as well as how to prepare the student emotionally, mentally, etc. At first, I thought some of the information about what students face in high school wouldn't apply, but then our family has been touched by some of these issues. Life does intrude in ugly ways sometimes, and things like this can help us remember to address them. I feel much more confident in my ability to help Chrystiana and my other kids prepare not only for college, but for their future, too. Sometimes we get so caught up in the day to day, we forget to look up and see where we're heading.
Pricing and Other Information
Pricing
High School Prep Genius is available for $29.95 (nonconsumable).
College Prep Genius has some other wonderful looking college prep products on their website. You can find out more by checking out their videos, articles, blog, FAQ and about us and the author pages. You can also find them on Twitter and Facebook.

*Pricing and information is accurate to the best of my knowledge at time of posting.