Happy Kids Songs sent us three CDs via download plus the Happy Kids Songs Workbook (in print). The CDs we received were Friends & Sharing, Happiness & Attitude, and Manners & Character. Their CDs and workbook are geared towards ages 3-8, but the songs and workbook would appeal to kids who are younger and slightly older than this age range as well.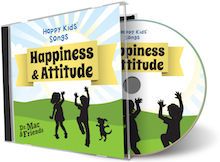 Song Titles
Shake It Out and Dance
Who Knows What's a Kudo?
I Don't Understand
Be Good to Yourself
Better Together
Happiness & Attitude teaches about positive thinking ("I can" instead of "I can't"), complimenting others, choosing a good attitude, and how it's fine to be alone, but even better to hang out with someone.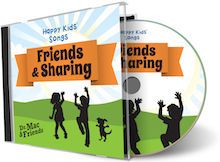 Song Titles
Sailing on the Seven Cs
Everybody Wants to Find a Friend
Sharing Friends
Happy as Happy Can Be
Together
On Friends & Sharing, you'll find songs about what makes a good friend, initiating friendships, sharing friends with others, and more.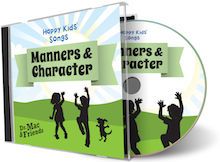 Song Titles
H-o-n-e-s-t-y
The Magic Word
Quirks
The Golden Rule
Six Little Kids
Manners & Character covers honesty, saying please, accepting the differences in other people, say nice things (or nothing at all) and appreciating other perspectives.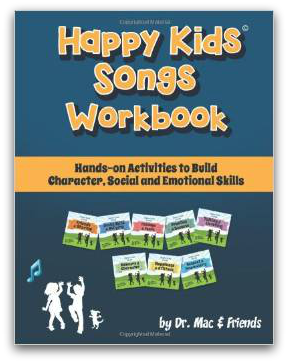 The Happy Kids Songs Workbook includes the lyrics to all the albums plus coloring and activity pages for each song. In the back of the workbook, there are some learning activities that seem suitable for a classroom type setting or perhaps might be of interest in a family setting.
How We Use It
I played the songs through my computer since it was the quickest and easiest way to get going with them. I'd love to put them on the iPod at some point so they could listen to them on their own or through our Suburban stereo system. But this worked for now. We listened to a song while the kids read and kinda sang along with the workbook. You know, the 'mumbling, don't quite know the words' thing we all do with unfamiliar songs? Yes, that.
After the song, they did the workbook related coloring page or activity…if they felt like it. Sometimes they did, sometimes they chose to just listen and sing along. It really depended on their mood, quality of sleep, etc. We did look at the learning activities, but they weren't something we were really interested in so we skipped them.

You may need to click through to the blog to see the video.
What We Think
The songs are kinda catchy. You definitely dance in your chair a bit. I don't think I can listen to them without movin' and groovin' some. In fact, I'm pretty sure I didn't sit still for any of them. Chair dancing, oh yes I did.
The kids love the songs, and I don't find them annoying at all. I think they are fun, upbeat, and a great way to encourage some good character traits. I will say, I think some of the lyrics are a little, uh, just okay. But the majority of the songs-I found I really liked the message in them.
Not only do my kiddos enjoy listening to them, but I have a feeling my grand babies will, too. And they like having the lyrics to help them learn the songs, plus the coloring pages and activities are fun as well.
But don't take my word for it, you can listen to samples for each song on their website. Go check them out! And tell me if you at least tapped your foot or bobbed your head.

This song wasn't on one of the CDs I reviewed, but I loved the behind the scenes glimpse of pulling the songs together.
Pricing and Other Information
Each CD features five songs and is available for download through iTunes or Amazon for $4.95 per CD or 99¢ per single song. There are 8 CDs all together.
The workbook is available on Amazon for $12.56 or you can download the lyrics, coloring and activity pages for free on their website. The workbook covers all 8 CDs.
You can find Happy Kids Songs on Facebook and YouTube.

*Pricing and information is accurate to the best of my knowledge at time of posting.