Library and Educational Services sent me two Go Science Series 2 DVDs to review: Volume Two featuring Life Science and Weather and Volume Seven covering Engineering, Design, and Flight (you may need to log in to view some of the product pages).
Before I share more about the DVDs, let me first tell you a little about the company. Library and Educational Services is a small family wholesale company serving churches, schools, libraries, resellers, and specialty stores. Not only that, but they sell to ministry leaders, daycare centers, missionaries, and homeschoolers. I, as a homeschooling mama, think this is awesome.
Library and Educational Services chooses books, CDs, and DVDs for distribution that blend well with Christian values and morals. And did you catch that they sell at wholesale prices? This is definitely something to check out if you fall into one of the categories they sell to, and you're interested in saving money. You, dear readers, have been privy to my medical craziness of late which means BILLS. So saving money is definitely a priority right now! I imagine it is for you, too.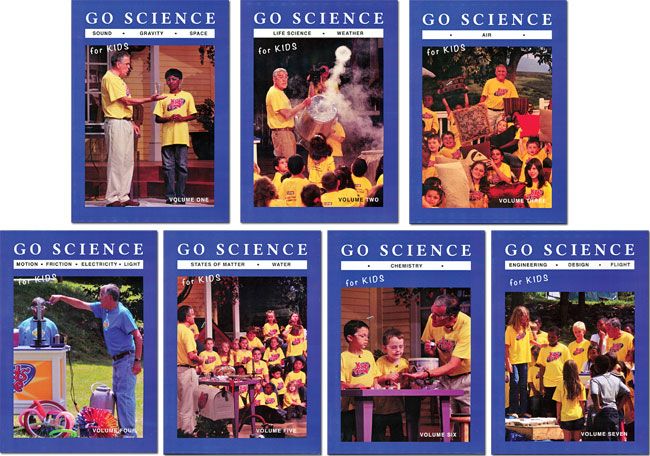 Okay, so what about these DVDs? Well, in the series 2 set, there are seven volumes as you can see in the picture above. In case you can't read the titles very well, I'll list the other five for you: Volume One – Sound ~ Gravity ~ Space; Volume Three – Air; Volume Four – Motion ~ Friction ~ Electricity ~ Light; Volume Five – States of Matter ~ Water; and Volume Six – Chemistry.
The Go Science series 2 DVDs are geared towards ages 4-12, and are approximately an hour in length in total. Each DVD includes a series of experiments that would be challenging or unsafe to do at home. The experiments themselves average about 3-10 minutes each. The DVDs feature Ben Roy, a fun and entertaining teacher, who will definitely catch your child's attention, and fuel their interest in science. The series was originally created for a Christian TV show, but are now available on these DVDs.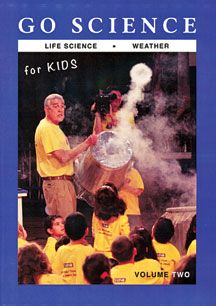 Volume Two contains seven experiments, such as Flashlight-Animal Eyes or Eating Nails for Breakfast, related to Life Science. Weather has five experiments to learn from. For example, one title is called Garbage Can Vortex and another is called Fire Tornado. I recently learned about fire tornadoes myself, and they are a little evil looking – let me tell you. And totally fascinating to watch.
Volume Seven contains seven experiments for Engineering and Design. If Centrifuge doesn't capture your attention, perhaps Walking on Eggs will. Interesting, yes? And then Flight has four. Three of them have the word rocket in the title. Rocket is one of those words that screams excitement.
How We Used It


I let my kids loose on the Go Science DVDs. They were eager to dive into them, and I was happy to oblige. They tended to watch a few in one sitting. I didn't need to watch with them, but I chose to anyway. Had I not been dealing with the crazy 'possible seizures' issue, and my driving limitations, I would love to extend the learning by grabbing books from the library on the various topics. I still plan on doing that as I think they would really enjoy some quick studies related to these DVDs. I imagine they would be inspired to draw some pictures, too.
What We Think


Both of my younger two kids (ages 11 and 8) think Ben Roy is funny, and they love watching the experiments. I have gotten an excited ear FULL from my kids on the various 'cool' and 'awesome' things they learned including the importance of wearing safety goggles and how God is the Creator of all. Through science, we can learn more about God and His creation. Now that's a great thing to learn.
I watched these DVDs with a grin. Seriously, Ben is quirky and entertaining. He chuckles often throughout the experiments, and really engages his audience. I found myself laughing here and there as well as being interested in the various experiments. Do I recommend these? Yes, wholeheartedly. They are a great way to watch some experiments that would be tricky to do in a regular home setting. What do my kids say? "Mom, can we buy the rest of them?" Now that's an endorsement, yes? Me thinks so.
Pricing and Other Information
The DVDs in
the Go Science series 2
each cost $8.97 (the list price is $14.95) which I think is a great price.
You can also find Library and Educational Services on Facebook.

*Pricing and information is accurate to the best of my knowledge at time of posting.