Institute for Excellence in Writing sent me Fix It! Grammar for reviewing purposes. I received both The Nose Tree Teacher's Manual Book 1 and The Nose Tree Student Book 1. Fix It! Grammar is geared towards 3rd grade and up. Both books are spiral bound for ease in everyday use.
The Student Book contains a quick overview on how to use the book followed by weekly lessons. There are 33 weeks of lessons. Each week has a main lesson followed by four days of short passages to mark. Each day also has a vocabulary word in bold. Once the day's work has been completed, checked and discussed, the student then copies the corrected passage into their notebooks. By the end of the 33 weeks, they will have a handwritten copy of the entire story. There is also a Certificate of Completion for the parent to fill out. In the very back of the book, there is a glossary separated by a divider made of the same hard plastic as the cover. This is a nice resource for the students and covers Parts of Speech, Sentences, Clauses and Phrases, Punctuation, Additional Rules and Concepts, and Stylish Techniques.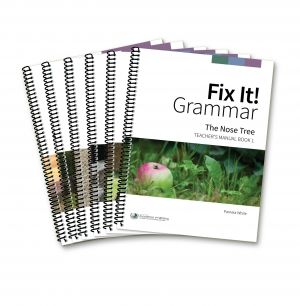 The Teacher's Manual includes a page on accessing your downloads that come with the purchase of this book: the Fix It! Student Book 1 e-book, Mastery Learning audio, and But…But…But…What About Grammar? audio. The e-book can be printed for use within your own immediate family or classroom. If you choose to buy the printed Student Book, copies of the pages can be made for your immediate family's use.
After that, you'll find an introduction to Fix It! Grammar before heading into the actual lessons. The Teacher's Manual includes copies of the student pages along with explanations, answers, definitions for the vocabulary words, and notes to the teacher. In the back of the manual, there is a scope and sequence, a set of grammar cards to tear out and cut apart for use with the lessons each week, and the same glossary found in the Student Books.
How We Use It
We made copies of the first few weeks of the student pages so I could try this out with all four of the kids. Plus, I wanted to work through it myself, too. I also bought each of us a composition notebook for the story rewrites. Each of us picked out our own books, and the some of the kids added some stickers to personalize them. It only took a few minutes to get the grammar cards ready, and we were set.
For our lessons, we all gathered around the kitchen table. I read the lesson out loud, and then led them through the first day's assignment. I also had the kids figure out what the vocabulary word meant by reading it in context, and then I read the definition. You can have them copy the vocabulary word and definition, but I chose not to have my kids do that. Once we went over the passage, made sure it was correct, and discussed it, we all did the corrected rewrite into our composition notebooks. Since I have four kids, they all took turns reading a passage.
On the rest of that week's days, I had them work independently, and then we checked our work, discussed the grammar points, and did our rewrites. Wash. Rinse. Repeat. Each week follow the same pattern.
For review purposes, we all worked together. But moving forward, we will each move at our own pace. There are six books, and we are hoping to work through them all.
What We Think
We all enjoyed the roughly 15 minute sessions, and the fact that we're following along with a story rather than random sentences. It's almost like editing your work. I have a couple of reluctant writers, but they don't mind the rewrites because they are building a story, and the work is short. The weekly lessons are not overwhelming, and give enough practice for them to learn the material. I also like that towards the end, the book begins adding in some review to test their knowledge. This includes both grammar and vocabulary. I like Fix It! Grammar so much that I went ahead and bought four more Student Books, so we could all have our own to work in rather than continuing to make copies.
My youngest is in second grade, but she's able to work through the lessons as well. She's catching on quick enough and the rewrites are not overwhelming for her. Everyone agrees that Fix It! Grammar is a wonderful addition to our homeschool. My son suggested that IEW comes up with a mini coloring book to go along with the stories. They could make it available as an optional additional product, and as he says, they could make a little more money from it. Yup, they like it and find the story interesting to boot.
Pricing and Other Information
Fix It! Grammar's
The Nose Tree Teacher's Manual Book 1
is available for $19.00 and
The Nose Tree Student Book 1
is available for $15.00.
If you need help deciding which book to get, Institute for Excellence in Writing has Placement Tests and an informational Webinar which should help you figure things out a bit.
You can find the Institute for Excellence in Writing on Facebook, Twitter, Pinterest, Google+, YouTube, and Vimeo.

*Pricing and information is accurate to the best of my knowledge at time of posting.