Fascinating Education gave us access to their Fascinating Chemistry course for reviewing purposes. The courses are presented through a slideshow format great for audio and visual learners. Along with the slideshow presentation, each lesson also includes a text version of the lesson and an online test. The courses cover topics one would find in a high school science course, but some middle schoolers have taken the courses, too. It's even suggested as a review for college students.
Dr. Margulies, a retired neurologist, was originally asked to help a school whose students weren't passing biology, and after much success with that endeavor, he wanted to make these available for more students. His desire is to help students learn how the world works through his courses. He does this by using everyday observations and showing students how the material applies to their own lives. He assumes the students have no prior knowledge of the material and strives to take it slow and make it clear so they easily understand the lessons. The testing throughout is designed to help the students master the knowledge they are acquiring.
Fascinating Chemistry has 18 lessons each with the lesson (slideshow presentation), text PDF of the lesson, and the online test. There are also some PDF versions if you choose to administer the tests yourself along with answer keys for you to use. They are also adding labs to supplement the course with, and all of these are available with a separate password. Here are the lesson titles to give you an idea of what your student would be learning:
Lesson 1: The Intramolecular Bond
Lesson 2: The Ionic Bond
Lesson 3: The Covalent Bond
Lesson 4: The Polar Covalent Bond
Lesson 5: The Metallic Bond, Part 1
Lesson 6: The Metallic Bond, Part 2
Lesson 7: Heat
Lesson 8: Air Pressure
Lesson 9: Properties of Water
Lesson 10: The Mole
Lesson 11: Gases
Lesson 12: Solutions
Lesson 13: Chemical Reactions
Lesson 14: Orbitals
Lesson 15: Electrochemistry
Lesson 16: Polymers
Lesson 17: The Nucleus
Lesson 18: Final Problems
Each lesson is broken down into multiple parts and covers a lot of information. Each lesson presentation is approximately 45 minutes long plus add in time for the test which could bring you to an hour and a half per lesson. More if you add in the labs for chemistry which should take about another hour to complete. There are currently 12 labs available, and I don't know if more will be added or not. Lessons can be done at the students pace. They can take a week per lesson or do one a day. They can even spread lessons out over two days. Really, it is up to them on how much they can take in as the lessons are full of information.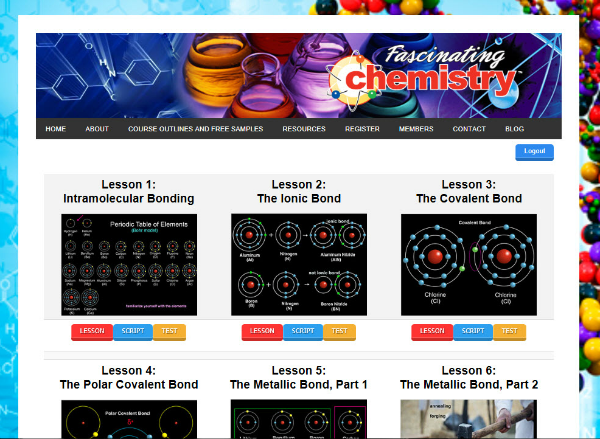 How We Use It
Christian logs into his account, and clicks on his next lesson. First, he skims the text PDF, and then he dives into the slideshow lesson. Once he completes that, he takes his test. The tests are multiple choice and he gets a grade as soon as he finishes. You have to get 80% or above to pass. This course is self-led and really requires nothing from the parent unless you want to administer the tests yourself or decide to use the labs. Parental guidance is recommended for the labs and additional supplies will be needed to perform the experiments.
What We Thought
Christian found the lessons interesting, but watching the entire thing in one go proved to be a bit much. He suggests breaking each lesson in half with the test taken on the second day. If you choose to do the labs, you will most likely want to take an additional day to complete them. As far as the information, he found a lot of it to be familiar already. That being said, he did learn some new things as well. He also didn't find anything questionable in the lessons thus far.
I have to agree with Christian's suggestion. It seems like a lot of things are presented in each lesson, and I think dividing them up over two – three days would help the student retain the information better, and get the most out of each lesson.

Pricing and Other Information
Fascinating Chemistry is available for $79 which gives you access for one year. There are discounts for multiple course purchases.
You can view sample lessons and introductions online to get a better idea of what to expect. You can also see a Scope and Sequence chart on the Chemistry page.
At this point, Fascinating Science is not on social media although they plan to be soon along with adding a blog to the website.

*Pricing and information is accurate to the best of my knowledge at time of posting.