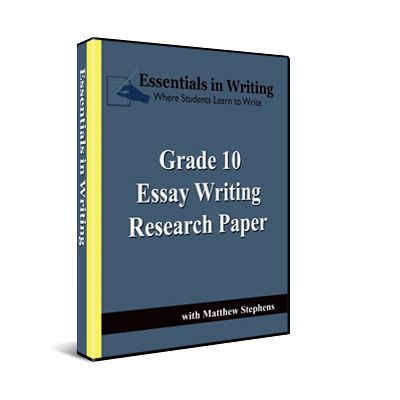 I love to write. I've loved writing since I was a little girl. But teaching it? This is one of my weak areas. Thankfully, I got on the crew for Essentials in Writing, and I'm glad I did. I'm reviewing the Tenth Grade Essay/Research Curriculum with my daughter who is not a fan of writing. She takes after her dad. Yes, this is one of those times where she has to face a not so favorite subject.
We printed out the PDF which has her lessons and writing assignments on it, and she settled in for the first lesson. She found the instructor to be interesting and amusing. Then came the actual writing assignments. She balked. We talked. She recovered.
Our Process
Chrystiana watches the videos, reads through the PDF, and completes the assignments. Then she brings them to me, I check them, and then we discuss the lesson. Wash. Rinse. Repeat. When she struggled in the beginning, I asked her if she wanted me to go over the lessons with her before she did the assignments. She said no. She felt the setup was fine, the material understandable, and that she needed to conquer her writing aversion herself.
I wouldn't say she loves writing – that might take a while. But she is enjoying the teacher, and she finds the curriculum self-led for the most part. Having me check her work, and going over it is all the input needed from mom. I love that about any curriculum because I feel a high school student needs to be more independent with their studies.
They have ideas for how to use Essentials in Writing on their website.
The curriculum
I have to say, I'm impressed. There is a lot of information in here delivered in bite size chunks to help the student grasp it. Tenth Grade begins with sentences (clauses, run ons, fragments, etc.), moves into paragraphs (formal, expository, persuasive, etc.), followed by essays (personal, compare and contrast, etc.) and finally covers research papers. There are about 63 lessons in all (15 for research papers alone), and eight pages of graphic organizers (forms) in the back.
Students learn how to organize their thoughts, research their topics, draft their paragraphs, and edit and polish their work. You can see the table of contents for Tenth Grade by clicking on the PDF file on the right side of the product page to give you a better idea of all that is covered.
The Tenth Grade Essay/Research Curriculum costs $40 and comes with two DVDs full of lessons, and a PDF file of worksheets and assignments. They are changing from a CD-Rom format to a downloadable PDF for the workbook. If you'd like a pre-printed workbook, you can request that for an additional $20.
We chose to print ours out, but you could have your student read the PDF on the computer. The assignments are done on separate paper regardless. All you would need to print are the forms in the back as needed.
I think this is a straight forward composition curriculum with no added bells and whistles. A lot of information is packed in here, and I believe Chrystiana will walk away with stronger writing skills. She might not ever love writing like her mama, but she will have solid knowledge needed to accomplish her essays and research papers.

*Prices and information are accurate at the time of this review.