Essential Skills Advantage sent our family a membership to their Premium Plan online program for reading and language geared for grades K-6. It can also be used as remedial work for older students. They've designed the program to appeal to visual, auditory and kinesthetic learning styles through their animations, activities, games, sound effects, songs and rewards.
The students can work on strengthening their phonics, reading, vocabulary, reading comprehension, grammar, creative writing, spelling skills, and more. You can see a breakdown of their Learning Modules on their website.
The parents have their own section where they can set up the accounts, monitor grades, when the students were last on, and how much of the program has been completed. They can even see how many attempts were made, if they reached mastery, and download certificates.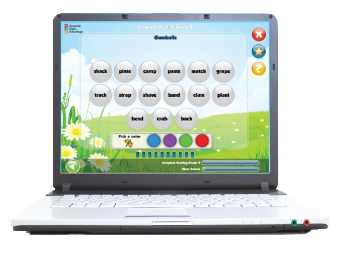 How We Use It
I chose where I wanted my children to start working, and sat with them as they became familiar with the program. Then, once they knew what to expect, and how I wanted them to proceed, they were able to work independently. Occasionally, they need a little clarification, guidance or a mini lesson, but for the most part, they are able to work on their own. I also check their progress along the way to see how they are doing with the program.
What We Think
Amber: "I like the dog part when he dances (when she completes the activities and gets a star). I sorta actually like the card games, word search and other activities. And that's sorta all." She gave it four thumbs up (she included her toes).
Jake: "I think it's pretty awesome, and I like the stories like Chocolate and The Little Piggy, and I like the activities. I like that I've learned vocabulary skills, spelling, and reading comprehension." He gives it two thumbs up.
So what does mama think? Well, overall, I love what they are learning, and I think it's a wonderful program. They are learning things we haven't covered yet in an easy and fun way, and it's reinforcing what they've already learned.
It's been nice to have this over the summer to keep their minds sharp, but I will appreciate it even more when we hit our fall and winter schedules. We have several big things happening this winter plus I have seizures that hit one week out of the month. This will be a huge blessing because they can continue learning when I'm unavailable. So for us, this will supplement our normal studies.
Now, I do have one suggestion that I think would make this program much better: Each time the kids move between sections, they have to log in again. This slows things down, and seems unnecessary. I think logging in once per session and then moving freely between the different sections would be more efficient and less irritating.
This especially became frustrating when the kids couldn't remember if they finished a section, so they wanted to pop through the sections real quick to make sure, only they had to log in every single section.
Other than that, I love the program and recommend it to other parents.
Pricing and Other Information
The
Essential Skills Premium Plan
is available for $9.99/month and opens all the features available.
Essential Skills Advantage also offers a sponsored version that is completely free. Members can enjoy access to every course ESA has to offer, but there will be advertising and some of the features will be unavailable.
Essential Skills Advantage has offered my readers a coupon code for their Premium Plan! Use coupon code "TOS50" (without the quotes) to receive 50% off the monthly membership fee. The code is good through October 1st. The 50% discount will apply for as long as you remain a member. This brings the membership fee down to only $4.99/month/student.
You can also find Essential Skills Advantage on Facebook, Twitter, Pinterest, and Google+.

*Pricing and information is accurate to the best of my knowledge at time of posting.