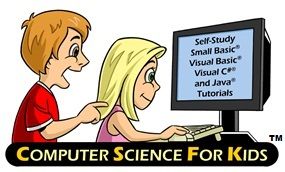 My wonderful husband is a computer programmer, and he's managed to instill a love of all things techy into his wife and children. Imagine my delight when Computer Science for Kids came up for review. We've been given the opportunity to review both Computer Bible Games for Microsoft Small Basic and Beginning Microsoft Small Basic. Both of these are similar in the first few chapters, but differ on the final game programming.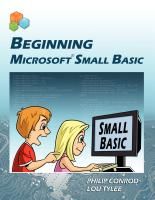 Beginning Microsoft Small Basic is designed as a self-paced interactive tutorial with 11 chapters covering program design, text and graphics window applications, and several elements of the Small Basic Language. It's meant to be used by the beginning programmer ages 10+ through adult. With over 500 pages and numerous examples, the student will become comfortable with the Microsoft Small Basic program ending with several finished programs such as a card game, state capitals game, logic games, and more. Your student can even published their finished work online if desired.
The final chapter shows the source code for four classic Small Basic Computer games plus it shows how these can be enhanced by other programming languages. On the website, you can see the table of contents, screen shots, and a sample chapter.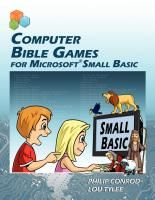 Computer Bible Games for Microsoft Small Basic covers the same basic skills as the Beginning Microsoft Small Basic course, but branches out into Bible game programming towards the end. Students will build and play seven classic computer Bible games: Noah's Ark, Daniel and the Lions, Elijah and the Ravens, The Good Shepherd, The Prodigal Son, The Lost Coin, and Bible Scramble. Again, the programs they create can be published online. A table of contents, sample chapter, and screen shots can be found on their website.
Microsoft Small Basic is designed to prepare the student for more advance programming languages such as Visual Basic, Visual C# and Java.
How We Use It
I had my kids download the Microsoft Small Basic program as well as the two tutorials, and get the program installed and set up. Then I let them loose. We had a small hiccup at first. Both kids started right to work on it until we realized they were working through Introducing Small Basic – a tutorial that comes with the actual program. Oops. I will say, they both learned a lot and enjoyed working through it. I'll have them finish that later.
Once we course corrected (literally hehe), they dove into Computer Bible Games for Microsoft Small Basic. My daughter (17) is on lesson five, and my son (13) is on lesson seven. They are moving quickly despite the setback of diving into the wrong tutorial plus a trip out of town for a week. It won't take long for them to complete this first book.
They are both really enjoying the programming, and can't wait until they hit the actual game building. Both have hit small errors, but have managed to solve it on their own. They have even tweaked the code here and there which is a valuable creative learning experience.
My job: watch sometimes, be the guinea pig when needed, and ooh and ahh where appropriate.
Our Thoughts
We love this! Seriously, it is completely self-led, and they are doing great. I love that they are learning programming, and can build on these basic skills as they progress. It's also a wonderful way for them to 'talk tech' with their dad. I imagine this will segue into dad teaching some things when they get into more complex languages.
When they finish this book, I'll have them finish the other book, too. Then I plan on having them finish the tutorial they mistakenly began before getting the next level of the Bible programming books. They have some other neat programs available, too. These are perfect for the homeschooling kid who has an interest in programming.
Cost
There are a couple of options for purchase. We reviewed the digital e-book editions (single user license) for both books. They normally run $59.95 each, but are currently on sale for $34.95 each through July 4th, 2013. That makes these almost half off right now – an awesome deal in my opinion.

*Pricing and information is accurate to the best of my knowledge at time of posting.