David Nicholson sent our family a copy of If He Had Not Come. The story was originally written by Nan F. Weeks and David Nicholson fell in love with it when his own children were young. He shared it with his family for 30 years, and now wants to make it available for others. The story is suitable for ages 6 and up.
If He Had Not Come has a hard cover and is about 40 pages long making it a quick read. It's about a boy named Bobby who is eager to get to bed because Christmas comes the next morning. His dad reads a scripture to him before he goes to sleep and the words swirl around in his mind. He falls asleep with the words "If He had not come." echoing through his head and wakes up to find a world…where Jesus had never come. He discovers key things missing like the hospital, homeless shelter, children's home and the church. No one has heard of Christmas.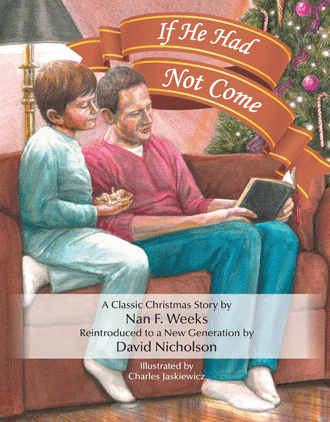 He wakes up to find it has all been a dream, but the message of what Christmas is really about lingers in his heart. The best Christmas gift ever . . . is Jesus.
Not only is the story itself thought provoking, but there are six discussion questions in the back of the book you can use to get the family talking a bit. These are suggestions to get conversation flowing, and maybe the kids will have questions to add to them. Next is a Digging Deeper section with four questions designed to get your family into the Bible to find out what it says about the birth of Jesus. Following that, you will find the gospel message including a prayer you can lead your family in if they have not accepted Jesus as their Lord and Savior. Finally, the kids are invited to draw a picture of a Christmas tree while you share with them different things they can add to their picture and what they signify.
What We Think
The story is indeed one to make you ponder a world without Jesus. Thoughts that make you appreciate His birth all the more. The pictures are charming and I love how the artist, Charles Jaskiewicz, used color to great effect. The parts of the book where Christmas is present are shown with bright colors and the middle of the book showcasing a world without Jesus is done in muted color tones. Such a neat contrast.
The kids and I love the story, and it is definitely joining our Christmas book collection. We read it first as a family read aloud and enjoyed all the questions in the back. When we get closer to Christmas, we will be adding in the drawing activity, too. For now, the book is available for them to grab and enjoy before I wrap it for Christmas. We are going to wrap several of our Christmas books this year (new for us) and unwrap/read one at a time from December 1st up to Christmas Eve where we will read a couple as is our normal tradition along with drinking Eggnog.

And the cat moved.
Pricing and Other Information
If He Had Not Come
is available for $18.95 for the hardcover and $3.99 for the eBook.
You can find If He Had Not Come on Facebook, too.

*Pricing and information is accurate to the best of my knowledge at time of posting.