We Choose Virtues sent us their Youth Virtue Journal plus PDF downloads for the Youth Mentor's Handbook, Youth Character Assessment, and List of scriptures. This set is geared towards ages 12-18, and is designed to be used as a mentoring tool. It was originally created for the Idaho Court system to be used for counseling youth.
The Youth Virtue Journal is about 100 pages and covers nine virtues: attentiveness, contentment, forgiveness, gentleness, helpfulness, honesty, obedience, perseverance, and respectfulness. The overall tone is one of making positive statements regarding each virtue such as "I am honest." It reminds me of speaking positive affirmations over oneself.
Each section starts by stating what the virtue is and is not followed by the youth writing one of their dreams in the dream journal section (back of the book). Next, there is a Take a Look at Me Now list of questions to help them evaluate how they are doing in regards to this virtue. Next, they rate themselves on a scale of one to ten. After this is the Take a Look Around list of questions which has them think of people who do and don't exhibit these virtues, and evaluates how this applies to their life.
Then comes the Take Some Good Advice section which lists various quotes about the virtue, and even has a section for the mentor to write their own advice on that particular virtue. Then it's back to the dream journal to think about how this virtue might help them reach that dream.
Finally, they are asked to write some thoughts on any of the questions that stood out to them, choose on a scale from one to ten where they would like to be with this virtue, and then personalize the virtue ("I, Audra, am attentive…").
The Youth Mentor Handbook gives you some tips on mentoring with these materials, as well as a general how to use them. To further facilitate a mentor style relationship, there is a Youth Character Assessment form to fill out with them to help evaluate them on each virtue before and after using the book. Finally, since this was designed for a court system, they have included a download of bible heroes and memory verses to be used with each virtue.
How We Used It


I used this with my son (age 14). First, I read through the handbook and looked over the materials sent with it. Then we dove in. I read the "is and is not" for each virtue, and then gave him the book for the dream journal. Then he joined me again for the first set of questions. I'd read them, he would answer, and then we chat about them. Then he assessed where he is now with each virtue. Next we did the second set of questions together. I read the quotes, took a moment to write my own advice, and then he would take the journal again and finish out the last couple of sections. To go deeper, he then read about the bible hero, told me how they reflected the virtue, and then he copied down the memory verse. We repeated this process for each virtue. The recommended pace for a mentor style use is for one hour once a week with each virtue taking two weeks. Since this was between my son and I, we simply worked through it at our own pace.
What We Thought


Overall, this can be a handy little tool. We started out doing each section, but then we dropped the dream journal. Christian really didn't see the point since we already talk about his dreams and goals. We also didn't see a need for the assessment form since each virtue asks them to assess themselves anyway, and it was something we discussed each time.
Our favorite sections hands down were the first set of questions which really helps you think and evaluate your character in various situations. Here's an example of one of the questions: "Do I know how to handle people's feelings with carefully chosen words?" Well, ouch. I know I don't always. We also really enjoyed the quotes and I loved sharing my own mother's wisdom. I also like the printout with bible heroes that exhibit these virtues and the memory verses. I have a feeling we will revisit the questions, quotes, advice, and scriptures from time to time.
Christian also likes the look of the book especially the mechanical-ish looking dudes (check out the photos of the cover and sample virtue to see what he means).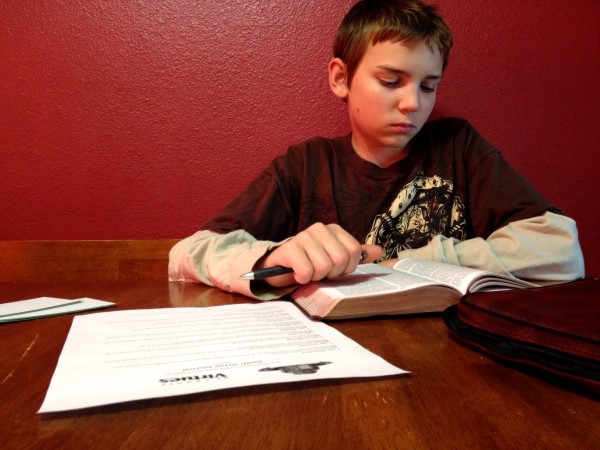 Pricing and Other Information


Youth Virtue Journal (with downloads) is available for $17.00.
We Choose Virtues has generously given the TOS Crew's readers two promo codes to choose from:
1. MAY-JUNE: *Promo Code BIG50 for 50% off our amazing set of 12 11×17 Kids of VirtueVille Posters! This is the first time we have ever offered these posters at this price. They are great for school classrooms, Kids Church, or your homeschool room. Kids love them for their bedrooms, bathrooms and kids' hallways.
2. JUNE-AUGUST: *Promo Code BTS20 for 20% off anything in our WCV Store. This includes any product for kids or youth. Let's start School with Virtues this year!
*Only one promo code per order
You can learn more about why Heather and Elton McMillan Jr. started We Choose Virtues on their About Us page. You can also find them on Facebook, Pinterest, and their Blog.

*Pricing and information is accurate to the best of my knowledge at time of posting.