Apologia Educational Ministries sent me something I desperately needed. I didn't know how bad I needed it until I began reading. Flourish: Balance for Homeschool Moms by Mary Jo Tate really spoke to me. There were so many take-aways, applications, and words of encouragement that I have truly been blessed. In fact, I'll be taking my time going back through at a slower pace, highlighting things that jump out, and applying so much to my day to day. This book is for you, mama, whether you are new to the homeschooling journey or an old experienced veteran like me.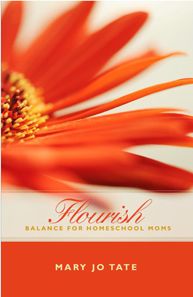 This approximately 288 page book moves along at a decent pace, but there is so much information packed in, that really, you should take your time with it. Plus, each chapter ends with a Take Action! section that helps you apply what you've learned in that particular chapter. So you will want to read it with a pen and journal or notebook in hand. Not only that, but Mary has included planning forms in the back of the book or for download on her website to help you implement various things like a yearly review and goal setting. She even includes a list of resources that have helped her on her journey as a woman, mom, home educator, and home business owner. I actually own some of these, and I'm adding others to my 'want to read' list.
Sprinkled through the entire book are some awesome quotes. Some of them hit me right in the spirit, brain or heart, and I had to look at the footnotes section, and guess what? There are even more books to add to my 'need to read' list! Did I mention this is a treasure trove? Are you getting the impression I just might like this book a teeny weeny bit?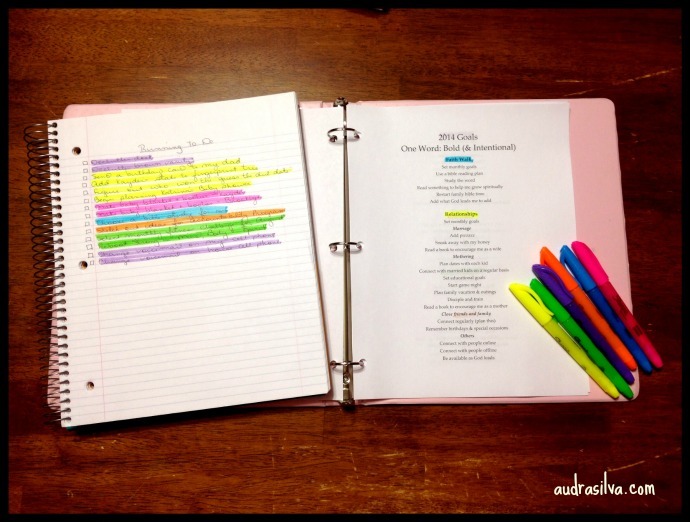 My running to do list is color coordinated with my goal categories.
So what did I learn? Hehe. That is a loaded question. The book starts with an introduction and then dives into your mindset about life. Do you fancy yourself as a juggler? I know I have, and cough, not the best one either. Mary shares a wonderful analogy that I immediately embraced for myself. Rather than a juggler, think of yourself as a tightrope walker. I actually have been pondering this, and feel a whole blog post coming with ideas this sparked. As for her analogy, basically picture yourself balancing, and with the wobbles, you pause to re-balance yourself. I could go on, but I'll let this go for now for the sake of the review.
She also gets into your behavior and your attitude. Need adjustments that are not the chiropractic kind? Well, she'll give you some. You'll find the nitty gritty such as time management, goal setting, and planning tools. She covers homemaking, homeschooling, and running a home business. She shares advice on taking care of yourself spiritually and physically, training your children, starting family traditions, and making memories. Plus, she gives wisdom on handling interruptions and encouragement for single moms. Phew. I told you there are a lot of gems packed into this book.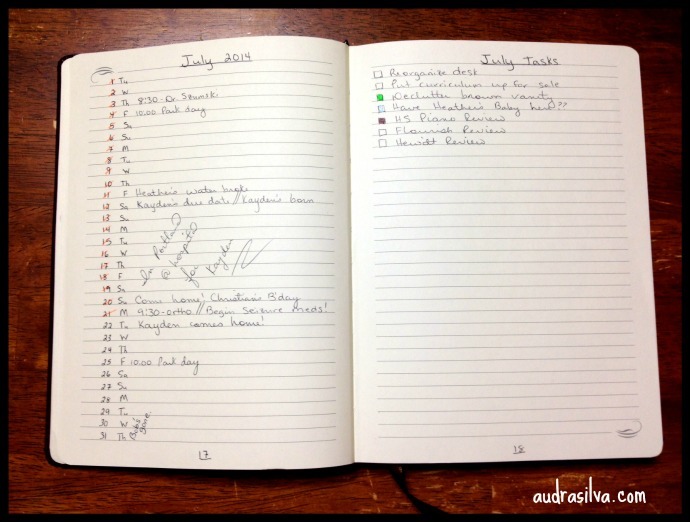 I'm changing the word tasks to goals so next month it will be August Goals. I'm also adding a Weekly Goals section, and moving my daily tasks to my planner. This is my bullet journal which I love. And really should share with you all in a post soon.
How Did I Use This
So how did I use this? I read it. I jotted thoughts in a journal. I answered the
Take Action!
assignments. I implemented her ideas. I'm going back through to highlight and add notes. I already use a calendar, have written
goals for this year
, but sadly haven't looked at them much the first half of the year, and have been hit or miss on several things. So I'm brushing the cobwebs off, rebooting some things, and taking up my tightrope pole with determination.
I've got some tools that I'm using more effectively now, and I've printed out my goals, my 43 while 43 list, and my Big Dreams worksheet. These are in a binder so I can actually review them. And, thanks to Mary, I've scheduled time to do just that. I'll be reviewing my weekly goals each night to plan tasks for the next day, reviewing monthly goals and my running to do and to stop lists weekly to help plan those weekly goals, and I'm reviewing my yearly goals and 43 while 43 list monthly to help plan those monthly goals. And then at the end of the year, I will review the year and prepare for the next one. This last one is something I love doing every year, but the other review sessions will help me actually keep them fresh in mind and help me reach them better.
I'm getting organized ya'll. Organized both inside and out. Sometimes we need to take stock and see what is working and what's not. We need to know what to keep and what to drop. Ironically, she chats about these things in her book, too. Did I tell you there is a lot of meat here? You can sink your teeth into this thing, and come away satisfied for sure!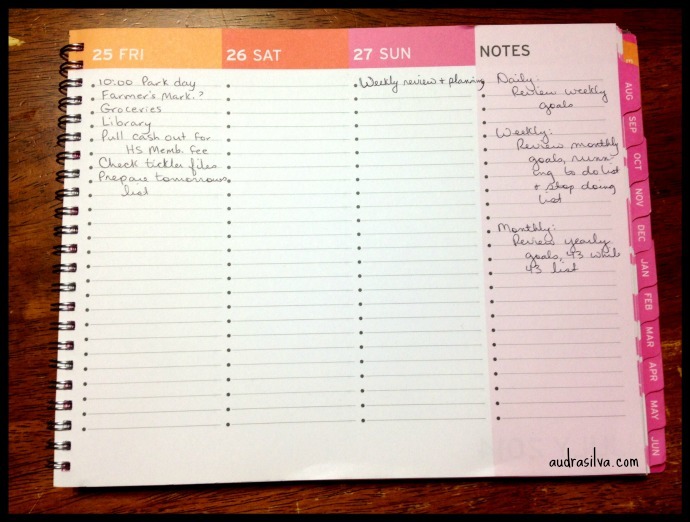 This planner has a calendar, but I use it for holidays and school goals, and not as my main calendar. I love using this for my daily tasks and random notes.
What Did I Think
Snort. Well, in case you missed it, I LOVE THIS BOOK! Usually, I try to save my feelings about it until this section of the review, but I just could not help myself this time. I needed a refreshing. I needed new inspiration in so many areas. I needed to
flourish
. Like how I did that? Snuck that right in there.
This book gave me the lift I needed. I'm ready to jump back in and practice life management. I want to do and be what God has called me to do and be. Tools help. Women who have been there help. And God helps. Amen? So, yes, I officially recommend this book especially if your current days are feeling a bit stale or chaotic.
For those who have an editor's brain, there are minor editing issues, such as missed word here or there, but these did nothing to detract from the book, and I barely noticed them. I bet that long sentence is driving you nuts, too. And did you catch my missed word? I caught it on my editing run through, but had to leave it because of the irony! Smile.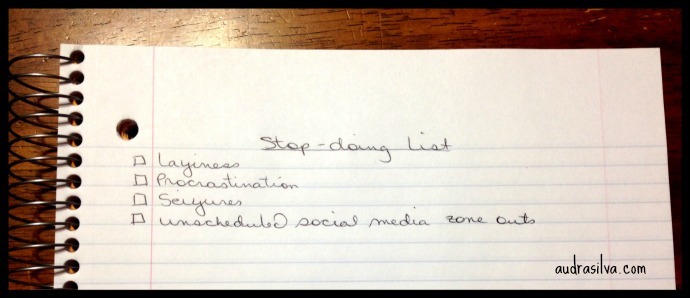 Yes, I had a little fun with this one.
Pricing and Other Information
Flourish: Balance for Homeschool Moms is available from Apologia Educational Ministries for $15.00. You'll find a downloadable sample chapter and table of contents on the book's page.
You can also find Flourish and Mary Jo on Facebook and Twitter.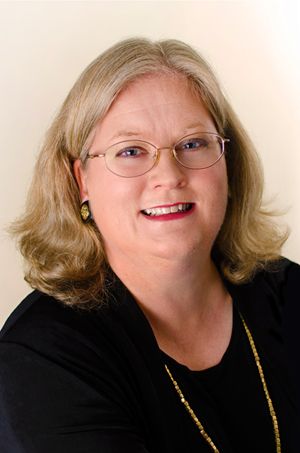 *Pricing and information is accurate to the best of my knowledge at time of posting.