Have I mentioned how much I love reviewing things? Not only does my family get to test out some pretty awesome things, but I get to pass on recommendations to you guys! How cool is that? Okay, I know I seem a bit bubbly, but I really love the item I'm about to tell you about. It's fun! It's educational! And did I mention it's fun? Seriously, we've really enjoyed this game. What game? Well, I'm so glad you asked. We were given a Premiere Edition of The Presidential – The Most Powerful Game in the World.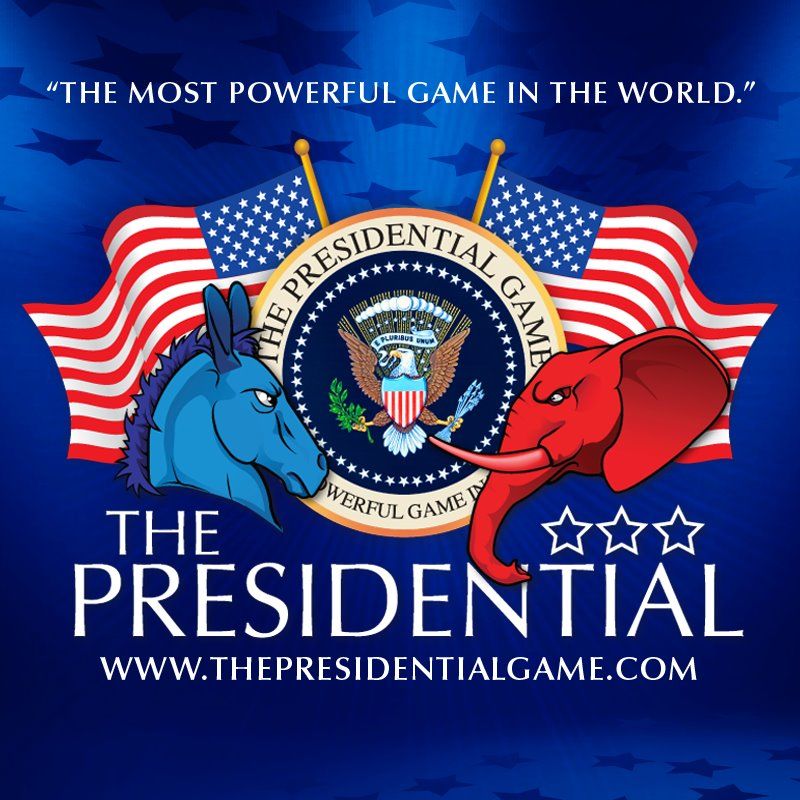 I don't know about powerful, but it is pretty cool. Let me tell you about the game first, and then I'll tell you why I love it. When you open the box, you will find a board game, 80 political cards (plus 40 more blank ones to make up your own scenarios), 150 red Republican Votes chips, 150 blue Democratic Votes chips, 3 red dice, 3 blue dice, a score pad, and an access code for the interactive Electorial WebMap Calculator (online, and an optional component). Oh, and directions. However, there are updated directions on the web. The game is geared towards ages 11 and up, and you can play with 2 or more players.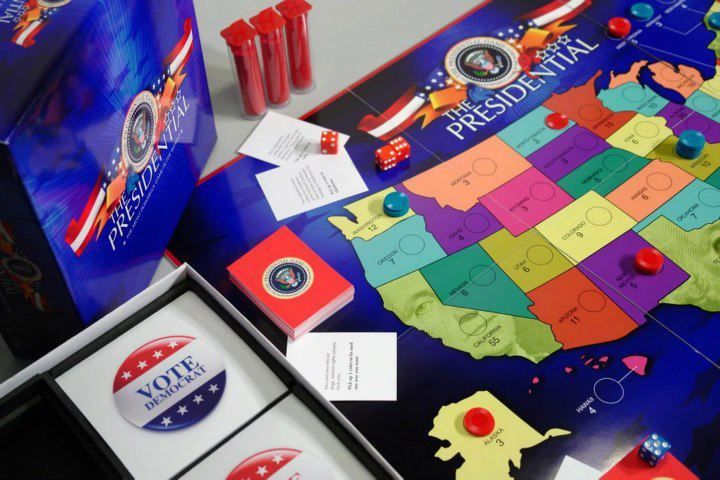 General Gameplay
Basically, you have two teams: Republican and Democrat (bet you didn't see that coming!). Both teams can either campaign or fund-raise to get votes. Both have their pros and cons. With campaigning, you can use all three dice, but you can only place your votes in three states. With fundraising, you can only use two dice (which means less votes), but you only have to place half of the votes in the state you choose (one of four). The rest of the votes can either go in the same state, or be spread out however you choose in whatever state or states you'd like. If you choose fundraising, you get to draw a politics card and either use it immediately (some say you must use it immediately), or save it for the end of another turn.
You will see a lot of turn over between who controls what state, and part of the strategy can be simply making a state neutral. Each state has a certain amount of electoral votes which is marked on the game board, so you will find a lot of battling over the higher electoral vote states. But don't forget those mid-range states to help your overall count!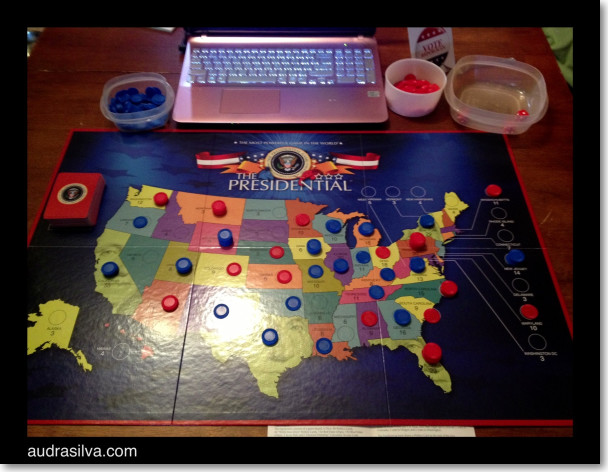 How We Played
We played with all four kids: ages 7, 10, 14, and 17. My husband and I were each on a team. We chose to have different people on a team role the dice, and make decisions for that round. You could also chit chat within your team, and come up with a decision together. Either way offers unique ways to see how the kids think.
We started out using both the score pad, and the online calculator, but quickly abandoned the score pad. We LOVE the online calculator. The score pad would be wonderful for those times you want to play, but you're without an internet connection.
Quick tip: Have the younger kids role into a bowl or the lid to avoid dice hitting the board, and knocking chips everywhere.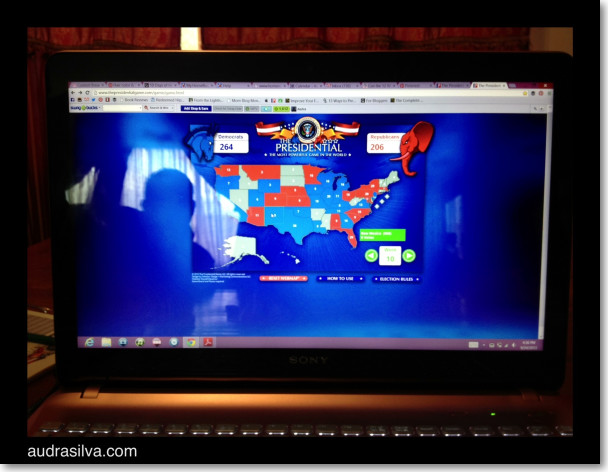 What We Think
At first, we couldn't see how anyone would ever choose campaigning over fundraising, but once we learned that fundraising is limited to two dice, it made sense, and balanced the choices better. This isn't in the directions that came with the game, but it is in the updated ones on the website. We still enjoyed the game the way we played, but it's much better the proper way.
One thing we learned, if you have real young players, limit the weeks (rounds) you play for. As you go up in age, or rather attention span, you can add weeks to the overall game. Ten weeks seems to be as long as we can play with our youngest (7) before she gets restless. In fact, seven weeks might be better. However, the teens are fine with all thirty weeks. I love that you can choose the length of the game not just to suit the players, but also to fit how much time you might have to play the game.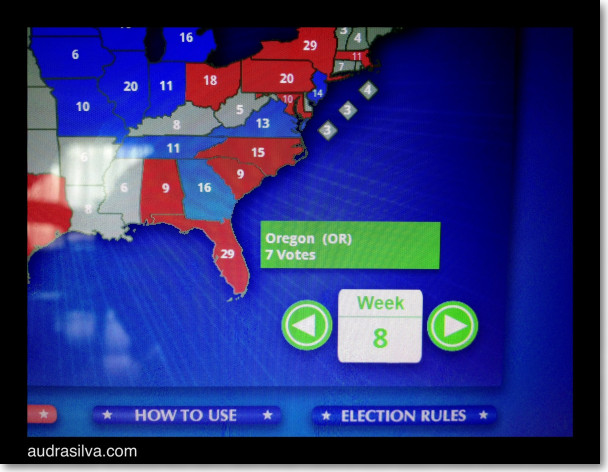 Now, the game is designed for ages 11 and up, but I think there is a lot of value for even the younger kids who really wanted to be included. They can still learn a lot about the voting process, and join in the discussions.
So what do I love, and what can they learn? We really learned some neat things about the voting process. We better understand why candidates will focus heavily on some states, and also how they should make sure they don't neglect smaller states that still have quite an impact on overall electoral votes.
It was also fun to see how different events could cost or raise votes in a state. Plus, you can see how it really is anyone's win right up to the end.
Fun and learning definitely come together in this game. Our whole family loves it, and we can't wait to introduce others to the game. The teens want to invite a group of friends over, and I suspect that when family comes to visit, they will be playing this game.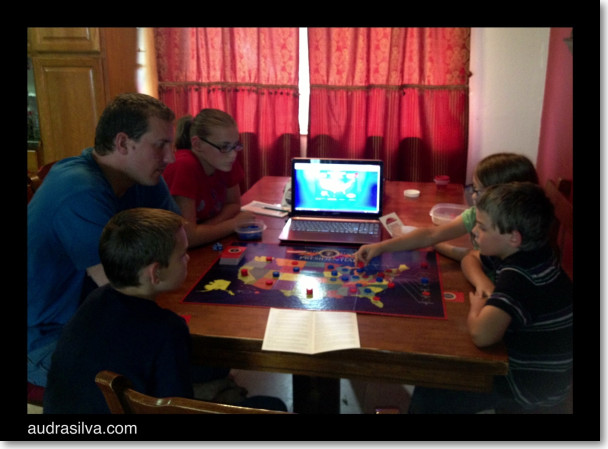 Serious game play in progress.
Pricing and Other Information
So how much is this awesomely fun educationally strong game? You can buy
The Presidential Game
for $35. That's pretty comparable to a lot of games out there. And your kids will learn a lot about the presidential voting process.
You can find out more information on their website, as well as find them on Facebook and Twitter.

*Pricing and information is accurate to the best of my knowledge at time of posting.