Bridgeway Academy sent us their Bridgeway English Book 1 – Focus on Grammar, Bridgeway English Book 2 – Focus on Writing, and Bridgeway English Key. These books are geared for grades 7-12, and are wonderful for remedial or review purposes. Both books are designed to be student led workbooks complete with reviews and tests.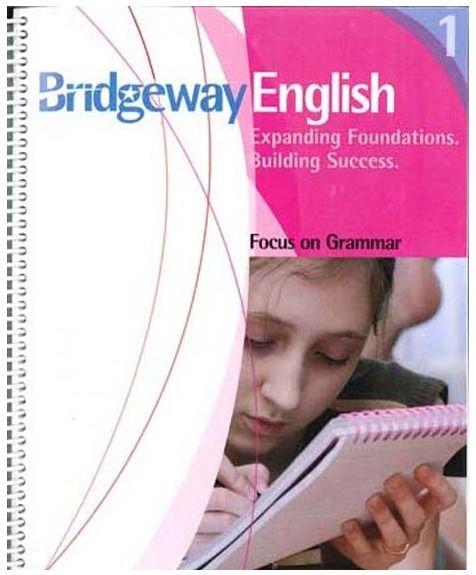 Bridgeway English Book 1 – Focus on Grammar covers subjects and predicates, types of sentences, fragments, run-on sentences, compound sentences, parts of speech (nouns, pronouns, verbs, adjectives, adverbs), prepositions and prepositional phrases, conjunctions, and interjections. There are 260+ pages with 6 Paks (or units) featuring instruction, exercises, reviews, self-tests (like a practice test), and tests. Plus, they have Tremendous Tales, which are interesting historical or other educational tidbits, and fun quotes sprinkled throughout. B&W graphics and pictures break up the text all through the book.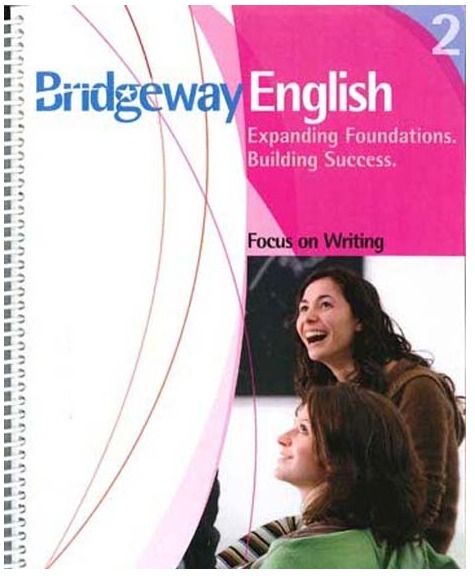 Bridgeway English Book 2 – Focus on Writing picks up where Bridgeway English Book 1 – Focus on Grammar leaves off. Literally. It begins with Pak 7 and goes to Pak 12. This book covers clauses, sentence variety, subject/verb agreement, grammar and mechanics, writing skills, rules of capitalization and punctuation, proofreading, editing, letter and business writing, study skills, critical thinking and reasoning, and fact versus fiction. There are 250+ pages in this book with all the same elements found in the first book.
Bridgeway English Key is simply that-a huge answer key covering everything in both books from exercises to tests. The student checks their own work, corrects what they miss, and then rechecks their work. The answer key lets the student know when the teacher needs to check certain parts like, for example, when they have to make up their own sentences. Plus, the teacher uses the answer key to grade the tests for the students.
How We Use It
These books are pretty straight forward, and although you would typically finish book 1 before moving on to book 2, my daughter worked in both books so we could better write a review on both. Basically, Chrystiana reads the instructional portions, works on the exercises, and corrects her own work. At the end of each section, there is a mini checklist: Check your answers. ____ Correct your mistakes. ____ Recheck your answers. ____ She marks each part that applies. So if she doesn't miss any, she only marks the check your answers portion.
On other sections, I need to check her work. After I check it, I write my initials on the space underneath. We always use a red pen to make it easier to see what was missed and needs correcting.
For both the reviews and the self-tests, Chrystiana corrects her work as usual, and then I look over it. Once I finish that, I initial and grade her work. Then she's ready for her test. These are found in the back of the book, and are removed and given without the use of her book. This is checked and graded by me. If she misses any, she corrects her answers.
What We Think
Chrystiana was originally going to "teach" this to her brother, but she liked it so much, she asked if she could do it herself. So her brother will be getting his own copy soon. She loves this English course, and feels it's a terrific review, and also a great way to catch things she might have missed or forgotten along the way. I don't have to nag her at all to work on these books.
I like that it's straight forward and each part builds on the previous lessons. It seems pretty thorough, and I love that it is student-led, yet allows for the teacher to monitor progress, too. I also like how it breaks up the lessons with interesting quotes, facts and pictures. It has a lot of review built in, and seems to lay a solid grammar foundation. This will be something I'll most likely have my younger kids do as well when they reach the upper grades.
Pricing
Bridgeway English Book 1 – Focus on Grammar = $23.33
Bridgeway English Book 2 – Focus on Writing = $23.33
Bridgeway English Key = $23.33
The workbooks are consumable, but the English Key can be used by multiple students.

*Pricing and information is accurate to the best of my knowledge at time of posting.