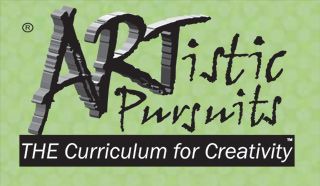 When I checked out the ARTistic Pursuits website, I knew I wanted on this review. I chose to review High School 9-12 Book One – The Elements of Art and Composition by Brenda Ellis with my 16 year old daughter. She's creative, but doesn't think she can draw. I wanted to push her out of her comfort zone. What are mothers for, right?
Book One has 92 pages with 68 illustration rich lessons, and costs $47.95. You can see sample pages on the website plus a table of contents and art supply list. You'll also find information on course credits and building a portfolio.
As for the units, they are broken down into four lesson types:
Lesson One – Building a Visual Vocabulary
Lesson Two – Art Appreciation and Art History
Lesson Three – Techniques
Lesson Four – Application
You can find out more about these types of lessons, and ARTistic Pursuits approach to teaching art on their website. All put together, it looks like a well rounded art program. The suggested schedule is two classes per week with approximately an hour per class. This means 32 weeks or a full year for each book.
I like this course because it can be used independently and also by students without previous art experience. Even though an art newbie can use it, I believe it has a lot to offer a more experienced student as well. I also love that it includes art appreciation. I think it's valuable for students to learn from master artists. Another aspect I appreciate is the way the assignments are set up. After the student learns a concept, she is then able to apply it to her own art. She's free to draw something from around her rather than copying something out of the book. I like this as it makes it more their own.
I handed my daughter the book, dug out the supplies we had, and let her go with it. She simply reads the lessons, and does the assignments as they come up. I have to ask to see her sketchbook because she is shy about her work, and doesn't think her drawings are good at all. I'm hoping she gains confidence as she moves through the book. I know the encouragement to use her imagination sparks something for her as I see it in her drawings. She does a combination of what she sees in front of her and what she sees in her mind.
I really like this curriculum. In fact, I'd love to get the books for my other kids. I think it's put together well, and the children will see growth in their art attempts. My daughter is still in "I don't like art" mode which is fine. Some school subjects aren't going to be favorites. However, her art speaks differently. I'm looking forward to seeing if her attitude shifts once confidence builds.
If you have a student who loves art, has a natural artistic bent (even if she "doesn't like art"), or you feel art is important, I'd encourage you to take a closer look at this program. Check out the sample pages (there are several), the table of contents, and the art supplies they learn to use.
ARTistic Pursuits carries art supply packs. However, art supplies can add up, so I collect them as I go. Some art supplies make nice gifts for birthdays and Christmas. Garage sales and thrift stores may yield some, or let people know what you are looking for, and they just might want to clean house a little. Having an ample supply and variety will allow for a lot of creative artistic expression.
ARTistic Pursuits can also be found on Facebook. Check them out!

*Prices and information are accurate at the time of this review.