Recently, I received the America the Beautiful Curriculum Package from Notgrass Company for review purposes. The curriculum is geared for ages 10-14 (grades 5-8), and is designed to be a one year course covering American history, geography, and literature.
Included in the package is America the Beautiful Part 1, America the Beautiful Part 2, We the People, Maps of America the Beautiful, Timeline of America the Beautiful, and America the Beautiful Answer Key. Additionally, you can purchase America the Beautiful Student Workbook and/or America the Beautiful Lesson Review. Notgrass Company sent us both of these as well.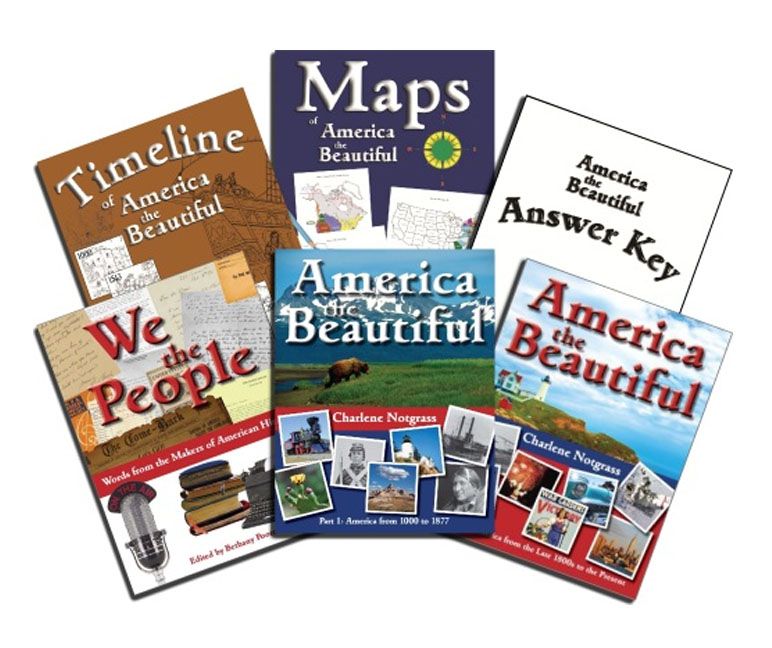 America the Beautiful Part 1 & 2 contains the meat of the program. Both are hardcover, contain 75 lessons, and are full of wonderful photos and illustrations in both color and b&w. The textbook is broken down into units and then further into lessons. Between the two books, your child will study history from life in America before Europeans arrived through to modern times.
Each unit begins with a quick overview, a list of lessons in the unit, and a list of books to be used in the unit. You will need a couple of books outside what is included, but you should be able to find most of them at the library. I think there is only one I will need to purchase from Notgrass Company specifically.
Each lesson has text to read, and then a list of activities to accomplish. This is where the other books come in (see descriptions on the website). Your student might have a reading assignment in We the People, map work in Maps of America the Beautiful, events to add to Timeline of America the Beautiful, or work to do in one or both of the workbooks. Plus, your student might have other assignments covering Bible, Literature, Creative Writing or Vocabulary. At the end of the unit, there is a family activity to bring everyone in on the learning.
How We Use It
Christian reads through the text, and then works through the assignments. Once he completes all the activities for the lesson, I check his work. He has never done a textbook type curriculum other than his math, so I was curious how he would do with this one. Our discovery? He does not like to write a lot at one sitting. It became a struggle for me to get him through the assignments. It was slow going. I found myself nagging way too much.
Finally, I sat down with all the books, and asked him point blank: Do you want to continue this curriculum? Yes. Do you like it? Yes, except for the writing. So we chatted some more, and came up with a compromise. I go through the lessons, and decide what I want him to do, and ask him if there is any he would like to add. Then I make a list for him to check off as he goes. I have him do some things by hand (like vocabulary), and others he can type into the computer. If an assignment can be done verbally, I'll have him do that, too. I also only have him do the vocabulary he doesn't know.
What We Think
Like I said, at first this became a struggle and a stressful situation. However, once we sat down and tweaked it for my son, it is working much better. We're gaining speed on his assignments, and I don't have to nag. Much. It is still summer, and he would still rather goof off. He wants to continue with this course though, and finds the information interesting. He enjoys what he's learning, and likes using ALL of the books including the two workbooks. What's neat is he loves the family activities, and it's become extra motivation to work a little faster so he can get to the next one.
I think this curriculum covers a lot, but manages to keep a decent pace throughout. I like the different books, and I think the other activities add nicely to the lessons. If you have a child that doesn't mind writing, then you may not have to tweak this at all. And if you do have one like mine, well, it really is easy to customize things for your child. By the end of the course, I think they will know a lot about American History, and will have enjoyed learning along the way.
Pricing and More Information
America the Beautiful Curriculum Package
= $99.95.
America the Beautiful Student Workbook
= $11.95
America the Beautiful Lesson Review
= $9.95
You can choose either the student workbook for 5th and 6th grade or the lesson review for 7th and 8th grade. My son actually chose to do both since they have completely different approaches. If you click the links, you can read more about the individual books and see sample pages.

*Pricing and information is accurate to the best of my knowledge at time of posting.