I'm so glad it's Friday! This week has been long and, well, not so hot. I'm hoping my hubby is able to spend some downtime with us this weekend. The poor man has been working insane hours (he left for work at 2:00 this morning – crazy man) and the weekends have been workdays lately. I miss him.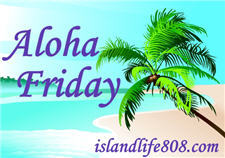 The very thought of Aloha Friday sounds so relaxing, doesn't it? So on that note, here is my question:
What is your favorite way to relax in the summer?
Leave a comment with your answer and then go check out Aloha Friday over on An Island Life by clicking on the banner.