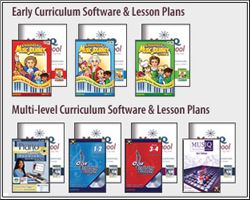 The MusIQ HomeSchool from Adventus is a comprehensive piano course designed to teach students ages 4-18+ how to read music and play the piano. What a blessing to be able to review this program. We've had a keyboard for years, and this program will help the family get more from it.
There are actually two programs available: Children's Music Journey and Piano Suite.
Children's Music Journey is for ages 4-10 and has three volumes providing a total of 95 interactive lessons presented by 18 composers such as Beethoven, Bach, etc. Following the lessons, the students can spend time with Miss Melody and her 95 practice sessions. Your students will also find 150 songs to learn and play, 30 games to reinforce what they've learned in the lessons, and a room where they are free to create and compose their own music using the available resources (instruments, sounds, etc.).
This program is a great way for children to have fun while learning how to read and play music. Once they finish with these three volumes, they will have quite a bit of music knowledge under their belt and be able to play with both the chords and the melodies together. I would then move them into Piano Suite to continue building their skills.
Click through to the blog to see the video.
Piano Suite Premier is for ages 8 on up to adults. It was created for beginners through intermediate level players. The program moves you through five skill levels utilizing their 500+ pieces of music, music history and 150 biographies, 8 games for practice, and evaluation and progress reports. It allows for playing hands-together or separately, and encourages you to compose your own music. You can even add favorite songs from the web allowing more customization.
Click through to the blog to see the video.
With both programs together, it becomes a seven year curriculum taking your student from beginner to advanced intermediate. You can buy lesson plans separately to help you navigate the program if desired. These provide a guide for moving through the lessons and include activity sheets and reviews. Adventus even has a blog where you will find additional resources.
How We Use It
My two teens are working through Piano Suite Premier (I'm hoping to join them at some point) on their own. My son hasn't done a lot yet as he's still struggling with severe head pain. My daughter scans the lesson plans, but mostly does her own thing. She spends time in Theory Thinker (lessons), History Happens (biographies on various composers), Piano Player (practice music), Composer's Corner (they get to be creative), and Games (reinforcement). Her favorite section is the library of songs, and how they are organized by playing level.
My younger two children are working through the Children's Music Journey. We had started Jake at Volume Two, but then we decided it would be best to have him work through Volume One. He is in complete agreement as he wants to play the games and do the activities. Again, we kinda scanned the lesson plans, but mostly worked through it our way.
The kids begin with the composer teaching their lesson. They love the animation. Then they practice with Miss Melody, do their games, and spend some time in the improvation room or the library. These activities are spread out through the week.
The curriculum is designed to do a weekly lesson with lots of practice and game time throughout the week. What is nice about the software is that the kids can't access the practice or games until they finish their lesson first. Plus, they can only access the games that coordinate with the lessons they have completed. The library allows them to practice elements from previous lessons.
Our Thoughts
I really like how the software is setup, and how the kids can lead themselves almost exclusively through the program. The younger ones think it's a lot of fun, and love that they are learning how to play the piano.
My oldest was surprised at how basic Piano Suite Premier seemed after seeing how dynamic the program for the younger students is, but she feels it gets the job done as far as teaching you how to play.
I love how comprehensive the programs is, how it engages the younger ones, and how the older ones seem to be learning quite a bit. My absolute favorite aspect is how the keyboard hooks up to the computer and allows instant feedback on their playing ability. This. Is. Awesome! Seriously. It's one thing to think you are doing something right, and it's another to have the computer catch mistakes or show success.
I also really like how you can slow down the tempo, learn the notes, and then get back to the correct speed. This keeps the student from getting frustrated on faster pieces. We haven't added our own songs from the web yet, but I'm sure we will at some point.
A quick note on customer service – we had a small problem during setup and they were quick to supply an answer to our dilemma and get us going.
Our only con is on Piano Suite. We can't find a way to switch between users easily. We have to close out the program and reopen it each time. Not a big deal overall, but would be nice to do.
Cost and Additional Information
MusicIQ HomeSchool Subscription
– $10.95/month.
There are other purchasing options for
Children's Music Journey
and
Piano Suite Premier
including bundles with keyboards available on the website, too.
You can also find Adventus on Facebook, Twitter, and YouTube.

*Pricing and information is accurate to the best of my knowledge at time of posting.